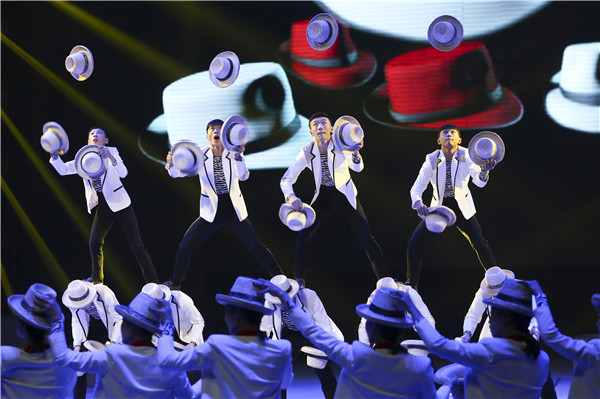 Acrobats from Shandong Acrobatic Troupe juggle straw hats and dance in Michael Jackson's style, in a piece choreographed by US choreographers Patti Colombo and Shanda Sawyer. The performance wins over the audience with its blending of elements Chinese and Western, traditional and modern. (Photo by Wang Zhuangfei/China Daily)
The growing awareness of the physical demands on acrobats, especially the younger ones, has also led to great changes in the way the acrobats train.
"Now, our training employs scientific approaches, which are efficient and healthy," says Wang Xiaoying. "The performing life of acrobat, like that of many other athletes, is very short. In the past, acrobats retired at 25 years old. Now, we don't bother to set an age limit. As long as they want to perform onstage, we'll let them stay."
In 1957, a group of acrobats, who had been performing in Tianqiao, a district in downtown Beijing that was once a haven for folk arts, founded the Beijing Acrobatic Troupe.
In 1995, Beijing Acrobatic Troupe presented a diabolo act, which won a gold medal at Paris' Festival Mondial du Cirque de Demain (The World Festival of the Circus of Tomorrow). The following year, this act was presented by Cirque du Soleil, which led to a long association with the Canadian circus.
During the 10th China Acrobatics Golden Chrysanthemum Awards, the troupe brought the diabolo act back with new choreography, new music and displaying traditional techniques.
Celebrating its 60th anniversary this year, the Beijing Acrobatic Troupe invited four retired acrobats back to train the young actors.
"The four artists are in their 70s and 80s and they spent their entire lives practicing their technique, such as playing diabolo and doing contortions. We invited them back because these techniques are not seen onstage nowadays," says Wang Xiaoying. "Given that the demand for traditional culture is growing in the country, there is a good reason for reviving the old acrobatic skills."