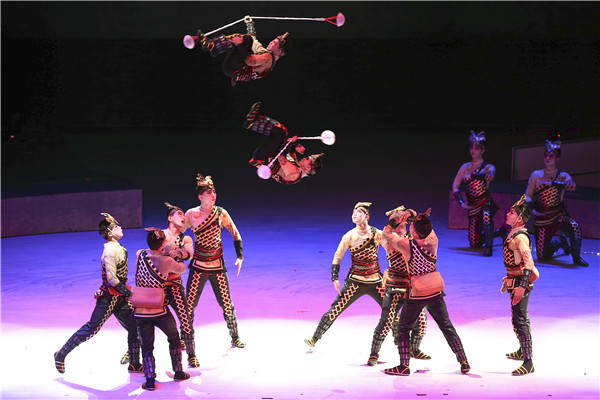 "Chinese kung fu" by student performers from the Hebei Wuqiao Acrobatic Art School. (Photo by Wang Zhuangfei/China Daily)
"I cried for a month in the beginning because it was painful and boring to practice the movements over and over again," says Wei, whose parents run their own business in Nanning. "My parents sent me to the troupe because they thought acrobatics is a visually beautiful art and the job is stable. Now, I am used to the intensive training and despite the hardship, I feel content when I finish a hard move."
Similar to Wei, acrobat Zhang Jianan of the Shandong Acrobatic Troupe started practicing acrobatics from a young age and didn't like it until she made her debut onstage when she was 15.
During the 10th China Acrobatics Golden Chrysanthemum Awards, Zhang, along with 32 other acrobats from the troupe, performed a piece, choreographed by US choreographers Patti Colombo and Shanda Sawyer. With remixes of Michael Jackson's hits, the actors juggled straw hats with great speed.
"I thought about giving up because my main focus was high altitude acrobatic skydiving, which was frightening and caused lots of physical pain," says Zhang, 31, who came from Rizhao, Shandong province. In four years, she will retire from the stage and become a coach.
Despite those complaints, Zhang says that she enjoys the freedom and self-expression of the art form.
Wang Xiaoying, the president of Beijing Acrobatic Troupe, points out that unlike traditional acrobatics, which mainly involves actors demonstrating jaw-dropping physical skills, the art form has now been combined with other elements, such as dance and theatrical techniques such as lighting, 3-D projections and so on, to satisfy the tastes of modern audiences.