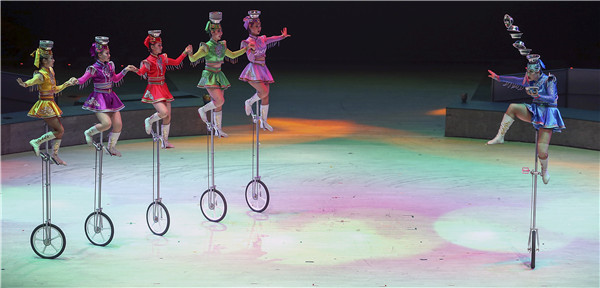 Other acrobatic performances include "playing with bowls" by a troupe from Inner Mongolia. (Photo by Wang Zhuangfei/China Daily)
This year's competition was held in Penglai in Shandong province from Sept 16 to 21, with more than 28 Chinese acrobatic troupes, featuring over 500 acrobats in total, presenting dazzling, fresh choreographic pieces.
"We've selected 30 programs from hundreds of programs. They represent the highest level of China's acrobatics," says Wang Rengang, secretary-general of the China Acrobats Association, a governmental organization focusing on promotion and development of Chinese acrobatics, founded in 1981.
Since 2005, the China Acrobats Association has initiated a number of plans to revive the traditional art form, including giving financial support to acrobatics troupes, lowering ticket prices and offering the troupes more opportunities to perform both at home and abroad.
"Acrobatics has a long history in China. It is a family entertainment that crosses borders. We've taken China's acrobatics troupes to perform and compete overseas, and they have received warm feedback and lots of awards," Wang says.
Wang says that the history of acrobatics in China dates back to the Tang (618-907) and Song (960-1279) dynasties, but like many traditional Chinese art forms, acrobatics faced a decline with the challenges from contemporary entertainments.
"It takes at least five years to train a new actor to a professional level. So lots of young people give up the idea right at the beginning, which has led to a lack of talent," Wang says.
And for young acrobats like Wei, it's not easy to take the first step.