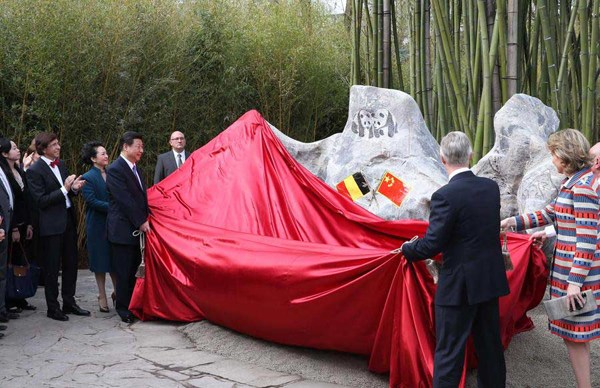 Chinese President Xi Jinping (3rd L, front), his wife Peng Liyuan (2nd L, front), Belgian King Philippe (2nd R, front) and Queen Mathilde (front R) unveil the panda house together at the Pairi Daiza zoo in Brugelette, Belgium, March 30, 2014. (Photo/Xinhua)
Germany
Bao Bao received a head of state-level welcome ceremony when sent to Germany in 1980 and enjoyed VIP treatment at Berlin Zoo. But his luck didn't continue on the dating market and his lovelife was not smooth sailing.
Tian Tian, the original partner sent to Germany with BaoBao, died early. In order to find a perfect mate for BaoBao, the Berlin Zoo arranged a cross-border date by sending it to the UK. But the two pandas started fighting the very moment they met and the blind date ended in injury.
The zoo didn't stop trying and borrowed another panda, Yan Yan, from China in 1997 in the hope of a good result. Staff conducted artificial insemination on Yan Yan for eight consecutive years but all efforts failed. Yan Yan died of intestinal disease in 2007, leaving BaoBao alone in his later years. Bao Bao passed away five years later and he was the oldest male giant panda.