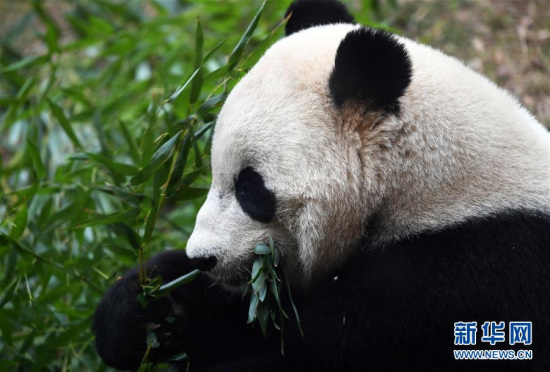 A close-up of Bao Bao eating bamboo at the National Zoo in Washington, Feb 21, 2017. (Photo/Xinhua)
Pandas abroad: U.S.
Mei Lun and Mei Huan, born on July 15, 2013 at Zoo Atlanta in Georgia, were the first surviving U.S.-born pair of giant panda twins.
Bao Bao, born on Aug 23, 2013 at the Smithsonian's National Zoo in Washington DC, was the child of the superstar couple Mei Xiang and Tian Tian, who were sent to the U.S. in 2000 under the cooperative breeding agreement. On her 100-day birthday, Bao Bao became the first panda to receive blessing videos from both the first ladies of China and the U.S., Peng Liyuan and Michelle Obama.