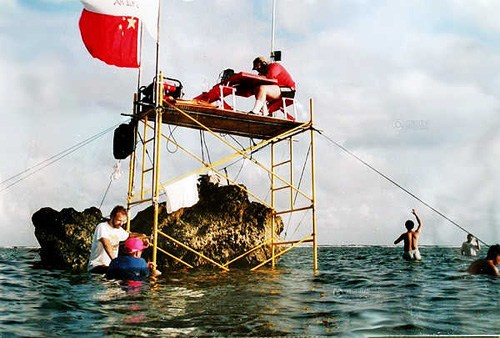 (Figure 7: In 1994, the Chinese and international radio amateurs used BS7H call sign to send out messages to the world from Huangyan Island for the first time. BS7H was a call sign internationally recognized for amateur radio communication from Huangyan Island. In this call sign, B refers to China's radio station, S refers to the islands in the South China Sea, 7 refers to the 7th zone of Chinese radio amateur, to which Hainan Province belongs, and H refers to Huangyan Island.)
3. How has China developed and exploited Huangyan Island?
Huangyan Island and its surrounding waters have been China's traditional fishing grounds since ancient times. Chinese fishermen have engaged in fishery activities for generations. In addition, they have used Huangyan Island as a safe haven in their voyage in the South China Sea. Genglubu, an ancient Chinese navigation log recording trips in the South China Sea, and other ancient documents and literature contain complete records of Chinese fishermen's activities around Huangyan Island. Since the Yuan Dynasty, the Chinese people have never stopped developing and exploiting Huangyan Island and its surrounding waters and the Chinese government has exercised effective management and jurisdiction over their activities all these years. These historical facts are supported by official documents, local chronicles and official maps in the past centuries.
The Chinese government has also sent out scientific expedition teams to Huangyan Island on many occasions. For instance, scientists of South China Sea Institute of Oceanology of the Chinese Academy of Sciences landed on Huangyan Island for research activities in October 1977 and June 1978 respectively. The South China Sea Branch of the State Oceanic Administration organized a comprehensive survey on Huangyan Island in April 1985. The Chinese South China Sea Scientific Expedition Team stepped onto Huangyan Island for scientific research and erected a one-meter-high cement monument in 1994. The relevant department of the Chinese government approved the application by radio amateurs to embark on Huangyan Island for radio exploration activities in 1994, 1995, 1997 and 2007 respectively.