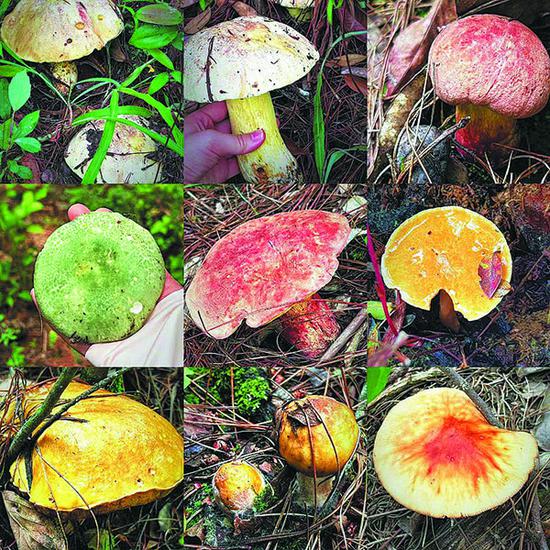 Visitors can see many types of wild mushrooms in Yimen county, Yuxi city, Yunnan province. (PHOTO BY XU YAOWEI/FOR CHINA DAILY)
Wandering in a dense forest amid fresh air, colorful flowers, and the sweet melodies of wild birds, tourists might feel they are in fairy tale world. In fact, they are picking wild mushrooms in Yunnan province.
Tired of visiting crowded scenic spots during holidays, many people instead choose mushroom picking to rejuvenate themselves. This emerging trend in the Chinese tourism industry offers travelers a unique refreshing break from the urban hustle and bustle to reconnect with nature and immerse themselves in nature's bounty. Along the way, they learn about the ecological significance of mushrooms and their role in the environment.
Away from the fast pace of city life, mushroom enthusiasts venture into Yunnan province to explore the hidden world of mushrooms, as travel agencies lure in visitors with various mushroom picking tourism offerings. Known for its stunning landscapes and diverse ecosystems, Yunnan provides numerous mushroom picking destinations.
Tech meets nature
Xu Yaowei is in charge of a mushroom picking project on the app "Youyunnan". He explained to China Daily that it was launched in early July.
"There are two types of tour routes. The first is mainly targeted at tourists from outside the province. Their main demand is for a mushroom hunting experience, focusing on easily finding mushrooms (without restrictions on mushroom types), ferns, and other specialty Yunnan mountain delicacies," Xu said. This package costs 168 yuan ($23).
The second route is for local and high-end customers, and includes a mushroom hunting experience (mainly edible mushrooms such as lurid bolete, tricholoma matsutake, boletus edulis), digging for polygonatum, picking wild tea, enjoying a mushroom feast on a farm, and visiting a local wild mushroom market. For the additional benefits, tourists can pay a very reasonable fee of 298 yuan.
The project was launched in response to a growing enthusiasm for picking mushrooms. Xu explained that in recent years, there has been a lot of content about mushrooms on social platforms during the mushroom season in Yunnan, attracting a lot of attention. It is regrettable that when visiting Yunnan, tourists are limited to eating wild mushrooms and cannot truly explore their natural habitat or experience the difficulty of discovering and picking a mushroom by themselves.
"Therefore, we believe that creating a seasonal tourism project like 'come to Yunnan and pick mushrooms in the summer' could be a marketable opportunity. This service fills a gap in the market and also allows tourists to have a more in-depth Yunnan experience," said Xu.
The project is already a success. By the end of August, it conducted nearly 40 one-day wild mushroom collection tours, serving nearly 800 tourists. More than 95 percent of them are from outside the province. Most of them are college graduates and parents with children, ranging from 25 to 35 years old.
A 35-year-old teacher, surnamed Li, told China Daily that she made a special one-day visit to Yunnan from Guangxi Zhuang autonomous region.
"My child loves mushrooms and we bought many books about them. That's why we visited Kunming to give my child a chance to be exposed to the wonders of nature and provide an educational experience," said Li.
Li enjoyed the process of searching and exploring, and gained a lot of knowledge about mushrooms by observing and touching them. For her and her family, that's quite an upgrade from reading books. Now they have mastered the skills needed for finding and picking mushrooms, and judging their edibility.
After her trip, she plans to recommend this hands-on project to her friends as a great experience for the whole family.
"The highlight was undoubtedly our encounter with the professional and passionate tour guide. The guide's expertise in mushroom identification and extensive knowledge about the local ecosystem was truly impressive. Their engaging stories and interactive sessions enhanced our understanding and appreciation of the wild mushrooms we encountered," Li added.