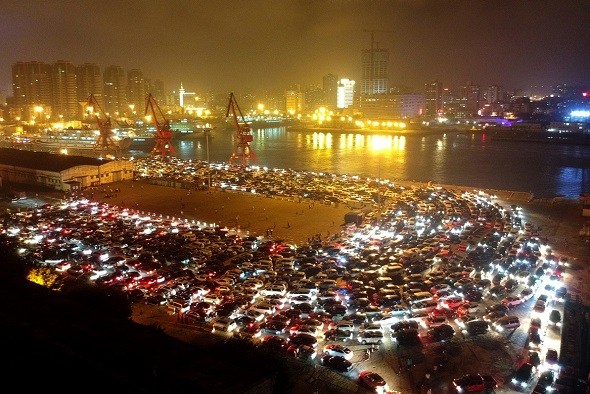 Vehicles wait for ferry service at Xiuying port in Haikou, capital of South China's Hainan province, Feb 21, 2018. (Photo/Xinhua)
The popularity of planes leaving the coastal city Haikou is no less than that of Noah's ark, as stranded tourists on Hainan Island were eager to finish their tour when the weeklong Lunar New Year holiday ended Wednesday.[Special coverage]
Plane tickets over a three-day period from Haikou, capital of South China's Hainan province, to some northern cities including Beijing, Harbin, Zhengzhou and Xi'an, are almost sold out, as shown on the websites of major airlines and ticket-ordering agencies. Only a few business-class tickets are left, pushing the price up to more than 10,000 yuan ($1574.6).
A large number of tourists are reportedly stranded in Haikou for days as heavy fog coated the Qiongzhou Strait that links Guangdong province on the mainland with Hainan Island.
Ferry services were stopped on Monday due to bad weather and resumed Tuesday, but it still obstructed more than 10,000 cars that were leaving as of Wednesday afternoon. The ferry service is the only way to drive to and from the island.
To alleviate traffic jams, the municipal government of Haikou issued an urgent notice, asking for all public departments except emergency and basic service departments to take a day off Feb 22.
Hainan, known for its tropical climate and clean air, is a popular destination for Chinese tourists during the Lunar New Year holiday. During that holiday in 2017, the province received 5.15 million tourists, according to the provincial tourism bureau.