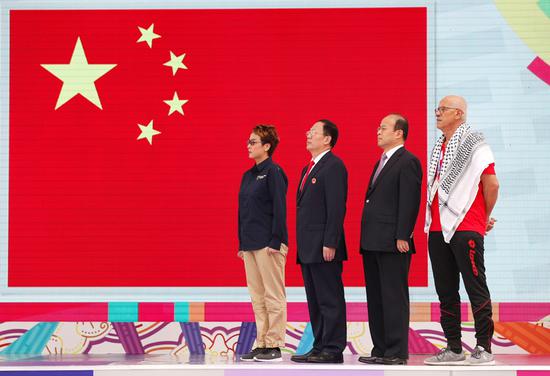 A flag-raising ceremony is held for Chinese athletes to the 18th Asian Games in Beijing, Aug. 16, 2018. (Photo: China News Service/Liu Guanguan)
Special: Asian Games 2018
The impending Asian Games can serve as preparation for China's young athletes ahead of the 2020 Tokyo Olympic Games, said a senior official with the Chinese delegation on Thursday.
"The Asian Games represent a midterm exam for us in our preparation for the Tokyo Olympics," Chinese delegation general secretary Liu Guoyong said at the Chinese flag-raising ceremony.
According to Liu, the Asian Games, to be opened on Saturday, will give young Chinese athletes a feel for major international sporting events.
"One of our aims for the Asian Games is to hone our young athletes, and to prepare them to get good results at the Tokyo Olympics," he said.
China will field 845 athletes at the Asian Games, 631 of whom have never participated in Olympics or Asian Games.
Outside of the athletes' village, China set up a 169-person camp consisting of doctors, psychologists, therapists and some coaching assistants, who will be ready at any time to help Chinese athletes, Liu said.
"This is something new for us, and we hope it can help us find a better way to compete in future Olympics," he said.
Zhao Shuai, who won a Taekwondo gold in Rio Olympics two years ago, will carry the Chinese flag at the opening ceremony of the Asian Games, Liu said.