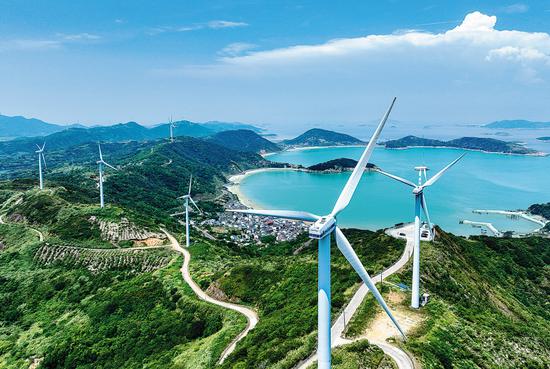 A wind farm generates power for grids in Zhoushan, Zhejiang province, on Aug 6. (Photo by Yao Feng/For China Daily)
With intensified efforts to promote green transitions, China has topped the world in many fields concerning environmental conservation and low-carbon development, according to a white paper released on Thursday by the State Council Information Office.
In 2021, the country's forest coverage ratio reached 24 percent, and its forest stock volume grew to about 19.5 billion cubic meters, said the document titled China's Green Development in the New Era.
"Both figures represented 30 consecutive years of growth, making China the country with the highest growth in forest resources and the largest area of man-made forest," it said.
With land areas that have desertification and sandification both shrinking, China is the first country that has realized zero net land degradation, it added.
The average density of PM 2.5 particulate matter in the country's cities of prefecture level and above dropped from 46 micrograms per cubic meter in 2015 to 30 mcg / cubic m in 2021. "China is making the fastest progress in air quality improvement," it said.
With booming energy conservation and environmental protection industries, the white paper said, the country has been making consistent, remarkable progress in new energy development. In 2021, the output value of China's energy conservation and environmental protection industries exceeded 8 trillion yuan ($1.2 trillion), it said.