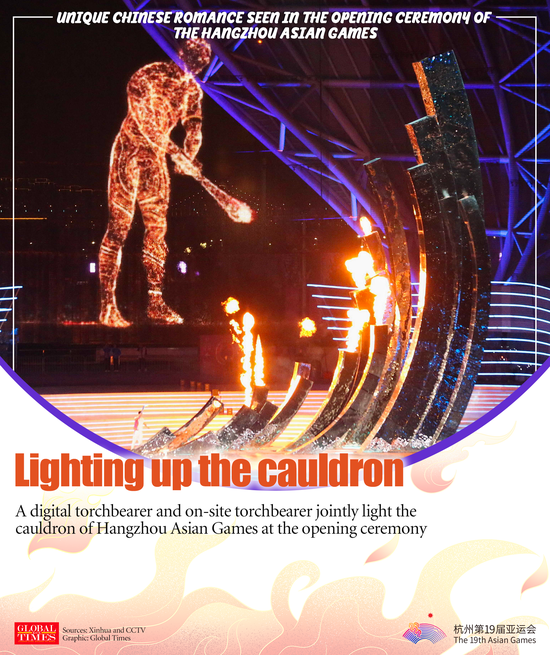 Unique Chinese romance seen in the opening ceremony of the Hangzhou Asian Games. (Graphic/GT)
As people were wowed by the spectacular Asian Games opening ceremony on Saturday evening, especially the moment when a huge golden "digital torchbearer" spanned the Qiantang River and lit the cauldron tower together with an actual torchbearer in Hangzhou, the Global Times learned how more than 100 million online users gathered as one huge "digital torchbearer" via augmented reality (AR) technology to complete the first-ever "virtual and reality integration" lighting ceremony at a large-scale sports event.
In order to include as much of the public as possible in the torch relay and ignition ceremony, technology engineers conducted over 100,000 tests of more than 200,000 lines of code in the past three years for more than 300 different types of cell phones, the Global Times learned.
"We created a form of mass participation via digital technology to maximize people's involvement in the lighting ceremony, because sports is for the all people instead of just a few of them," said Sha Xiaolan, chief director of the opening ceremony of the Hangzhou Asian Games.
The Asian Games Digital Torchbearer Platform developed by technology teams under the Ant Group is where ordinary people can control a virtual character and participate in an online torch relay and ignition activities.
However, making it so large numbers of online users can participate in these activities was not easy. How did engineers guarantee nearly 100 million netizens with different types of cell phones were able to use the platform? How did they make each "digital torchbearer" feel more real while taking part in the events?
Ensuring the digital ignition interactive event ran smoothly in an Alipay mini-APP on old devices was a challenging problem, as the platform needed to take into account 100 million participants who used various devices and models of cell phones, Zhang Shaorong, general manager of the Alipay Asian Games Office of Ant Group, told the Global Times.
There are still a large number of residents using low-performance phones with small storage memory and slow operating systems in cities and villages in China and in other Asian countries. A large 3D interactive program would freeze on such devices and downloading an APP would use up a lot of phone memory, Zhang explained.
Fang Kai, a user and public welfare director of Ant Group's Alipay Technology Department, told the Global Times that the company used Galacean, China's self-developed 3-D interactive engine, to solve the problem. According to Fang, Galacean has been used multiple times to support large-scale activities such as "the collection of five blessing cards" during the Spring Festival, which involved more than 100 million users.
"With the usage of Galacean, the Asian Games Digital Torchbearer Platform can support 97 percent of smartphone devices, even those produced eight years ago. Users don't need to download an APP, but can simply join the online torch relay through the mini APP on Alipay," Fang said.
While Galacean ensured smooth usage for large numbers of netizens, the technology of AI digital humans enabled the mini APP to provide 20 trillion different digital avatars through personalized face sculpting, motion capture and costume design.
After the lighting ceremony, each "digital torchbearer" received a digital lighting certificate that was engraved with their unique image and stored on a blockchain through distributed technology.
Besides the visual feast at the opening ceremony brought by the integration of naked-eye 3D technology, AR and AI, the notion of a smart Asian Games is also reflected in a mini APP that provides athletes and media with various information services related to the Games and life scenarios.
According to the developer, the mini APP ensures that foreign users can use mobile payments as conveniently as locals. It includes 15 technology service providers including China Mobile, Tmall and Gaode Maps, as well as more than 20,000 merchants, providing 28 services including ticketing buying, transportation, game tables, accommodation, dining and tourism.