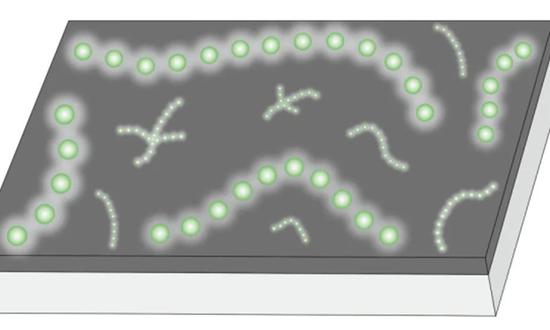 (Photo/Courtesy of Chinese Academy of Sciences)
Fossil specimens of Horodyskia dating back to 800 million years ago were recently discovered by paleontologists in East China's Shandong and Anhui provinces.
The mysterious ancient fossilized organism has an unusual appearance as it looks like a necklace with beads strung together one after another with uniformed spacing.
The discovery was revealed by researchers at the Nanjing Institute of Geology and Paleontology, Chinese Academy of Sciences (NIGPAS). Pang Ke, the head of the project, said that the Horodyskia fossils were two different sizes.
"The largest 'beads' were around 5 millimeters in diameter, while the smaller ones were less than 1 millimeter in diameter," Pang noted.
The project is making use of advanced scientific research techniques such as light microscopy measurement, energy dispersive X-ray spectroscopy and elemental mapping.
Following investigations, the fossils were identified by researchers as a type of benthos, organisms that live on the bottom of the sea, and most likely fall in the category of "algae."
Pang said that they have also discovered Horodyskia "beads" that were encased in an organic outer layer.
The Horodyskia fossils are not the oldest ones ever found. The earliest discoveries of the organism can be traced back to almost 1.5 billion years ago.
Horodyskia fossils are most commonly found in rocks like sandstone, Pang said.
"The large cell size of Horodyskia indicates that it was not only a eukaryote, but also likely a multinucleated or coenocytic eukaryote," Pang said, noting that the sub-millimeter to millimeter-sized cells of Horodyskia required multiple nuclei to regulate its giant mass of cytoplasm.
"The unique shape and growth pattern of Horodyskia provide important insights for us to look into the growth and evolution of early life," Pang noted.