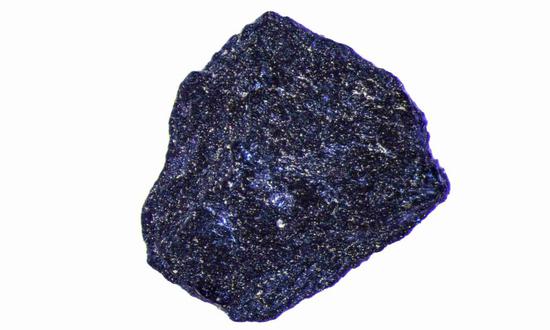 Photo released by the University of Rochester on March 8, 2023 shows an approximately one millimeter diameter sample of lutetium hydride, a superconducting material created in the lab of scientist Ranga Dias, seen though a microscope. (Photo credit: University of Rochester)
In a historic achievement, researchers at the University of Rochester have created a superconducting material at both a temperature and pressure low enough for practical applications, the university announced on Wednesday.
Scientists have been pursuing this breakthrough in condensed matter physics for more than a century. Superconducting materials have two key properties: electrical resistance vanishes, and the magnetic fields that are expelled pass around the superconducting material, according to the researchers.
In a paper published Wednesday in Nature, the researchers describe a nitrogen-doped lutetium hydride that exhibits superconductivity at 69 degrees Fahrenheit and 10 kilobars (145,000 pounds per square inch) of pressure.
With this material, the dawn of ambient superconductivity and applied technologies has arrived, said the research team led by Ranga Dias, an assistant professor of mechanical engineering and of physics at the University of Rochester.
Further experiments and simulations are needed to determine the exact stoichiometry of hydrogen and nitrogen, and their respective atomistic positions, in a greater effort to further understand the superconducting state of the material, according to the researchers.