Special: Two Sessions 2023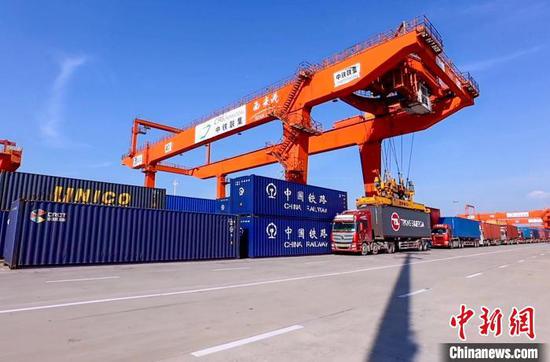 A port in Xi'an,Shaanxi Province. (Photo provided to China News Service)
(ECNS) -- Deputies to 14th the National People's Congress (NPC) and national political advisers believe that the Belt and Road Initiative (BRI) opportunities, high-quality cross-border e-commerce, and the digital economy will become three key driving forces to boost China's foreign trade in 2023.
International cooperation along the BRI to fuel foreign trade
This year marks the 10th anniversary of the BRI and China has been opening up new paths in international cooperation, trying to provide new opportunities for world economic development.
Foreign trade will remain the most essential support for the overall economic growth in China in 2023, said Yu Miaojie, an NPC deputy as well as the president of Liaoning University.
The trade between China and countries along the BRI would be stable at one-third of China's total foreign trade from this year and even for a long time during the 14th Five-Year Plan period (2021-2025), Yu said.
Before the two sessions, Rwanda, a country along the BRI, signed an e-commerce cooperation agreement with Alibaba on Feb. 27, according to which the first batch of 20 enterprises from Rwanda will start their cross-border e-commerce business on the Alibaba international trade site, mainly selling coffee and tea with Rwandan characteristics.
China-SCO Local Economic and Trade Cooperation Demonstration Area is smoothing the interconnectivity of the BRI cooperation, said Zhou Yunjie, an NPC deputy as well as the chairman and CEO of Chinese home appliance maker Haier Group.
The construction of the BRI international cooperation platform is urgent and significant as the cooperation demonstration area is becoming the focus of attention of the international community, he said.
High-quality cross-border e-commerce a new format to drive foreign trade development
High-quality cross-border e-commerce has become a new format to drive the development and transformation and upgrading of China's foreign trade.
Li Kuiwen, an NPC deputy and head of the Guangdong Office of the General Administration of Customs, suggested that cross-border e-commerce environment should be improved through effectively implementing plans of cross-border e-commerce comprehensive experimental zone and the market procurement trade should develop in a healthy way by strengthening the management of market entities access and joint punishment for violations of laws and regulations.
It is urgent to promote cross-border digital infrastructure construction, said Jiang Haoran, a member of the Chinese People's Political Consultative Conference and chairman of Cashway Fintech Co., Ltd.
Though 28 overseas warehouses have been set up in nine countries and regions, China's cross-border e-commerce digital logistics infrastructure is weak. For example, overseas warehouses are lack of public service network, which may increase cross-border logistics costs.
As such, Jiang proposed that a modern logistics network operation system integrating channels, hubs and networks should be established by the government and private funds guided by the National Development and Reform Commission and Ministry of Commerce.
Digital economy to empower China's foreign trade
"The digital industry is already the largest industry in China and the digital economy accounts for nearly half of China's total economic output," said Zhou Hanmin, a CPPCC member.
COSCO Shipping Holding has launched a global digital supply chain operation and investment platform with container shipping as the core, providing customers with a supply chain solution covering container shipping, port, and logistics services.
The Electronic World Trade Platform of Alibaba (eWTP) has applied digital technologies to import and export customs clearance, tax payment and other aspects, and launched overseas goods intelligent classification, overseas customs clearance platform SaaS, digital identity authentication of enterprises, and other services.
The eWTP has provided a digital operating system for cross-border e-commerce small and medium-sized enterprises (SMEs) and digital infrastructure for global SMEs to buy and sell globally, which has solved problems related to government governance and providing services for the going out of SMEs.
NPC deputy QuanHeng proposed to speed up the law system construction of the China International Trade Single Window and the application of digital technologies. It will help China accelerate its participation in the formulation of global digital trade and digital economy rules, he said.