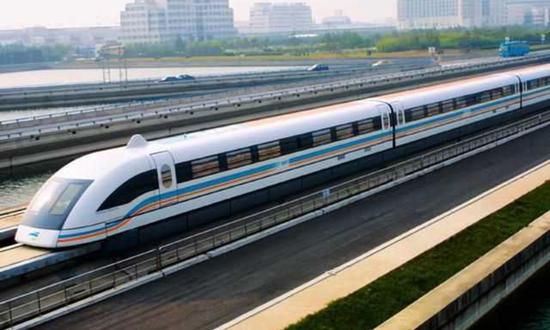 The ultra-high-speed maglev train running in a low vacuum pipeline is successfully tested in Central China's Shanxi Province. (Photo/CASIC)
China has successfully carried out a systematic test on a cutting-edge transportation system involving an ultra-high-speed maglev train running in a low vacuum pipeline, according to media reports on Sunday.
Three navigation tests have been completed in accordance with the test procedures thanks to the use of a super-navigation vehicle, and all systems work normally when the speed exceeds 50 km per hour on the 210-meter test route.
Researchers working on the project in Datong, Central China's Shanxi Province indicate that they aim to build an ultra high-speed mega transport system running in low vacuum pipelines by combining railway and aerospace technology, read an earlier report from the Science and Technology Daily on October 20.
The team from the state-owned China Aerospace Science and Industry Corporation (CASIC) hopes they will eventually be able to operate maglev trains in a tube with extremely thin air - meaning they would "fly on the ground" at speeds that rival planes.
The technology of maglev (also known as magnetic levitation) successfully eliminates friction, while operating the train in a low-vacuum pipeline reduces resistance and noise, which are two main problems in train transportation.
The experiment successfully completed at the beginning of 2023 is the first full-scale super-navigation experiment in China and has verified a series of key technologies, preliminatively verifying the correctness of the high-speed vehicle system and related coordination work.
Besides, the development of the maglev train was made possible, in part, by the rapid development of new industrial materials in China. The maglev track, for instance, needs steel with low magnetic permeability, or a low response to a magnetic field - otherwise the track will generate eddy currents that cause a loss of energy during operation, according to media reports.
The development and promotion of the high-speed rail remain a major priority in China, which aims to connect more of its vast territory, including not only larger cities but also remote areas, to travel by train to reduce the time and expense for a larger group of people.
Currently, China only has one maglev line in commercial use, connecting Shanghai's Pudong Airport with the Longyang Road station in the city. The 30 km (19 miles) journey takes about seven and a half minutes, with the train hitting speeds of 430 kph (267 mph).
Several new maglev networks are reportedly under construction, including one linking Shanghai and Hangzhou and another connecting Chengdu and Chongqing.