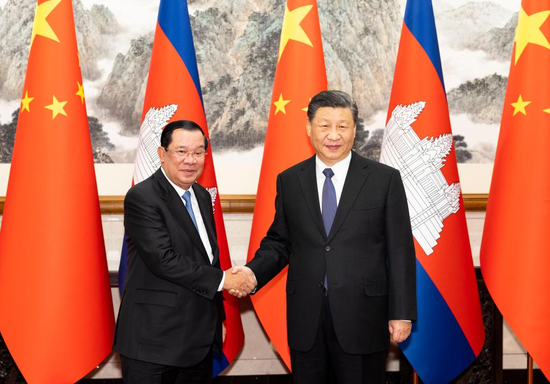 Chinese President Xi Jinping meets with Prime Minister of the Kingdom of Cambodia Hun Sen at the Diaoyutai State Guesthouse in Beijing, capital of China, Feb. 10, 2023. (Xinhua/Huang Jingwen)
Chinese President Xi Jinping met with Prime Minister of the Kingdom of Cambodia Hun Sen on Friday at the Diaoyutai State Guesthouse in Beijing.
Xi pointed out that three years ago, Prime Minister Hun Sen visited China as a token of support and stood firmly with the Chinese people in their fight against COVID-19.
This year marks the first year for China to fully implement the guiding principles of the 20th National Congress of the Communist Party of China and also the 65th anniversary of the establishment of diplomatic relations between China and Cambodia, Xi noted.
"It gives me great pleasure to work with you to realize our three-year appointment and open a new era of building a China-Cambodia community with a shared future at the start of spring," Xi said.
Xi stressed that China firmly supports the Cambodian people in independently choosing a development path that suits their national conditions and supports Cambodia in safeguarding national sovereignty and security, steadily advancing its major domestic political agenda and economic and social development, and opposes interference by external forces in Cambodia's internal affairs.
Taking Cambodia as a priority in China's neighborhood diplomacy, China has been planning and advancing China-Cambodia cooperation in various fields from a comprehensive and strategic perspective, Xi said.
China is ready to share opportunities, seek cooperation, and promote development with Cambodia in the process of advancing the rejuvenation of the Chinese nation on all fronts through a Chinese path to modernization and jointly build a high-quality, high-level, and high-standard China-Cambodia community with a shared future in the new era, to bring more benefits to the two peoples and contribute more positive energy to regional peace, stability, and development, Xi said.
The Chinese president noted that the two sides could build a cooperation framework in politics, production capacity, agriculture, energy, security, and people-to-people and cultural exchanges. On political cooperation, he said the two sides need to deepen strategic communication, strengthen experience-sharing on state governance, and deepen exchanges through various channels.
In terms of production capacity cooperation, the two countries should focus on building industrial development corridors, Xi said, adding that China will encourage more Chinese enterprises to invest in Cambodia, help construct the Sihanoukville Special Economic Zone in Cambodia, and support Cambodia in building transportation infrastructure.
Xi said efforts should be made to carry out agricultural cooperation near lakes, ensure green development and increase investment in hydropower and photovoltaic power generation projects in Cambodia.
On security cooperation, Xi said China will carry out joint operations to crack down on cross-border crimes on a regular basis and continue to provide clearing mines assistance to Cambodia.
On people-to-people and cultural exchanges, China will prioritize resuming and increasing direct flights with Cambodia, encourage tourism cooperation, carry out protection and restoration of cultural heritage, and support Cambodia in developing education and health, he said.
"The two sides should take the China-Cambodia Friendship Year as an opportunity to expand sub-national cooperation, expand people-to-people and cultural exchanges, strengthen youth exchanges, and carry forward the China-Cambodia friendship," Xi said.
Hun Sen said it was a great pleasure for him to be the first foreign leader received by China after the Chinese Lunar New Year.
Hun Sen said that he wanted to send a clear message through his visit three years ago and the current visit that the Cambodian people will always stand firmly with the Chinese people.
The Cambodian side admires China's development achievements and believes that under the leadership of President Xi, China will achieve the goal of building itself into a great modern socialist country in all respects as scheduled, he said.
He thanked China for firmly supporting the Cambodian people in choosing a development path suited to its own national conditions and providing timely and valuable support and assistance when Cambodia faced difficulties such as the COVID-19 pandemic.
Cambodia firmly upholds the one-China policy, firmly supports China in safeguarding its national sovereignty, security, and development interests, firmly supports China's policy of "one country, two systems," and firmly opposes any external interference in China's internal affairs on issues related to Hong Kong, Xinjiang, and Tibet, Hun Sen said.
He said that he fully agreed with China's proposal of the cooperation framework in six major areas. He added that Cambodia hopes to take the opportunity of the 65th anniversary of the establishment of diplomatic ties with China to consolidate the iron-clad friendship between the two countries, deepen experience sharing in party and state governance and practical cooperation in various fields, push for more achievements of the Cambodia-China comprehensive strategic cooperative partnership and jointly build a Cambodia-China community with a shared future.
Hun Sen said Cambodia is willing to continue actively promoting the development of ASEAN-China relations. He said that the Belt and Road Initiative, the Global Development Initiative, and the Global Security Initiative put forward by China are of great significance to safeguarding world peace and promoting common development. Cambodia actively supports and participates in these initiatives.
The two sides also exchanged views on issues of common concern.
Xi stressed that development is not the privilege of a few countries.
He said the act of power hegemony to engage in ideological confrontation, politicize and weaponize economic, trade, scientific and technological exchanges, push for "decoupling and breaking the chain," contain and suppress other countries' development, and ask regional nations to take sides, will not be supported by the people.
China stands on the right side of history and will firmly safeguard national sovereignty, security, and development interests as well as international fairness and justice, Xi stressed.
After the meeting, Xi held a banquet for Hun Sen.
Wang Yi and He Lifeng were present at the meeting. (Updated)