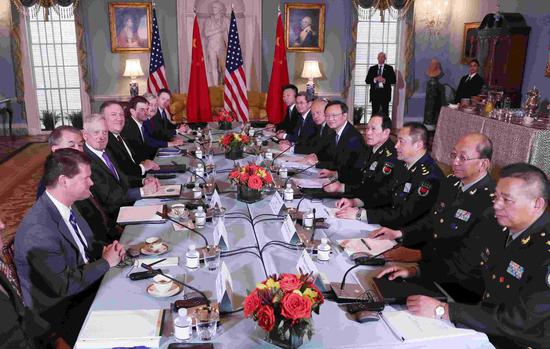 China and the US hold their second round of Diplomatic and Security Dialogue in Washington, DC, November 9, 2018. /Xinhua Photo
The top foreign affairs officials and defense chiefs of China and the US met in Washington for a postponed security dialogue on Friday.
The two sides discussed a series of issues including the military ties, the South China Sea, Taiwan as well as the Korean Peninsula.
Yang Jiechi, member of the Political Bureau of the Communist Party of China (CPC) Central Committee and director of the Office of the Foreign Affairs Commission of the CPC Central Committee, co-chaired the second round of Diplomatic and Security Dialogue with US Secretary of State Mike Pompeo and Secretary of Defense James Mattis. China's Defense Minister Wei Fenghe also attended the talks.
CGTN's Owen Fairclough reported in Washington:
While the two sides are struggling to resolve their trade war, they think they can stabilize relations by cooperating on other issues – to a degree.
They're locked in a damaging trade war, so diplomacy and military cooperation seem a better bet for China and the US right now.
There's enough goodwill to bring both high-level diplomats and defense ministers together in one room in Washington and – without President Trump – strike a different tone.
"The two sides need to further step up strategic trust, properly handle differences and promote exchanges and cooperation, so that this military relationship will be a source of stability for the overall bilateral ties," Wei told a news conference at the US State Department.
There's broad agreement on denuclearization of the Korean Peninsula as well as opportunities to cooperate further on counter-terrorism and drug smuggling.
But neither side appeared willing to give ground on the South China Sea issue. There was a recent near collision of warships between the two countries in the waters.
"We respect the United States interest in the Asia Pacific. At the same time we expect the United States to respect China's security interest in the Asia Pacific. China's sovereignty and development interests," Yang said.
Moments later, Mattis pushed back.
"We also discussed the importance for all military law enforcement and civilian vessels and aircraft including those in the PLA Navy, Chinese Coast Guard and the PRC Maritime Militia to operate in a safe and professional manner in accordance with international law as we seek peaceful resolution of all disputes in the South China Sea," Mattis said.
This second Diplomatic and Security dialogue under the Trump administration was postponed amid an escalating trade war launched by Trump who accused China of unfair trade practices that it repeatedly denies. And just how useful this meeting has been to resolve that dispute will be put to the test when President Xi Jinping meets Trump at the G20 summit in Argentina at the end of this month.
China's defense chief urges stable military ties
Wei and Mattis also met for bilateral military talks in the Pentagon later on Friday.
Wei said that a series of consensus reached between President Xi Jinping and President Donald Trump are the strategic guideline of the bilateral relationship. Both sides should implement the consensus and work towards a relationship that's non-confrontational and mutual respectful and beneficial, he stressed.
Wei also appealed that both sides should handle the military relationship in a positive and safe manner, strengthen strategic communication and mutual trust and explore ways to avoid conflicts.
Mattis said he agreed with Wei's proposal to foster a steady military relationship. He said that the US has no intention to contain China, and that it has always been the US intention to develop constructive military ties with Beijing. He said he hopes both sides could fully utilize the current communication mechanisms, improve risk management, avoid misunderstanding and miscalculation.
Both sides also exchanged opinions on issues including the South China Sea, Taiwan and the Korean Peninsula. Wei said that Chinese army opposes resolutely any actions to split the country, adding that the army will safeguard China's sovereignty, security and territorial integrity at any costs.