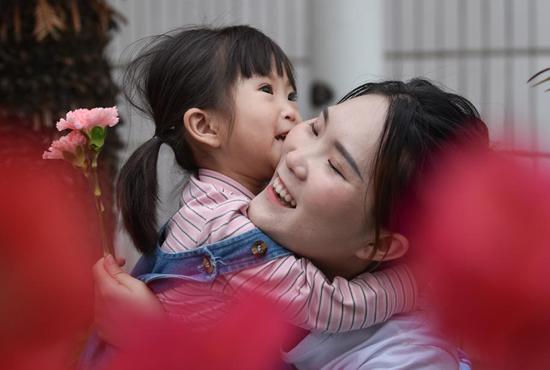 Consumers, many of them young mothers born in the 1980s and 1990s, traveled locally or to nearby regions to celebrate Mother's Day.(Photo provided to chinadaily.com.cn)
The domestic travel market embraced another peak during the weekend, as many consumers took short trips to celebrate Mother's Day, which fell on Sunday, carrying forward the May Day holiday consumption momentum.
Consumers, many of them young mothers born in the 1980s and 1990s, traveled locally or to nearby regions to celebrate the occasion. Over the weekend, women accounted for nearly 60 percent of consumers who traveled, according to Tuniu, an online travel agency based in Nanjing, Jiangsu province.
"Young mothers made self-driving trips to theme parks, zoos, botanical gardens and beaches along with their children. Beijing WTown, Universal Beijing Resort and Shanghai Disneyland were among popular choices for local consumers," said Qi Chunguang, vice-president of Tuniu.
With the gradual resumption of more international flights and a drop in ticket prices to many overseas destinations, some middle-aged and elderly consumers also opted to travel abroad. Over the weekend, the Maldives, Thailand, New Zealand, Indonesia and Singapore were among preferred outbound destinations for Chinese mainland travelers, according to Tuniu.
Meanwhile, the online retail market benefited as people bought gifts — from flowers, clothes and cosmetics to home appliance and gold jewelry — for their mothers on multiple e-commerce platforms. Flowers such as carnations and Chinese peonies were in high demand, according to data from online retailer Vipshop.
Chen Lin, a woman who works with an internet company in Hangzhou, Zhejiang province, bought a set of portable, outdoor table and chairs online for her mother, hoping her family can go camping more often.
On e-commerce platform JD, cosmetics, home appliances and jewelry were the top three gift categories. Between April 1 and Mother's Day, spending on household appliances on the platform soared 128 percent year-on-year.
Transaction values of window-cleaning robots, wall-mounted washing machines and intelligent dryers all rose by more than 100 percent year-on-year, JD found.
According to Vipshop, health product sales recorded a nearly tenfold surge year-on-year during the two weeks leading to Mother's Day, as consumers paid more attention to keeping healthy in post-pandemic times.
For instance, Yao Hong, an employee of a company, bought a bottle of imported probiotic drink in addition to flowers and a sweater for his mother.
Fu Yifu, a senior research fellow at the Star Atlas Institute of Finance, said: "Holiday consumption can help drive economic recovery and growth. The government and retailers may create more consumption scenarios, upgrade consumption experiences and further spur consumer willingness to spend."
Developing the night economy to extend the time of spending and launching themed shopping festivals integrated with local cultural elements can be helpful, Fu added.