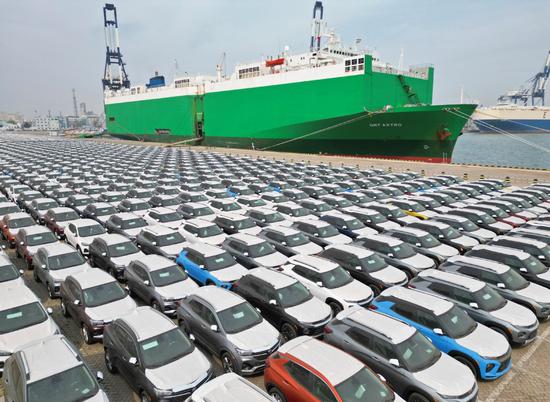 Cars for export wait to be loaded at Yantai Port in Yantai, Shandong province. (Photo/China Daily)
Exporters ride policy support and FTAs, innovate, turn nimble and resilient for growth
China's foreign trade is resilient in a challenging, uncertain environment as the players concerned continue to innovate and be nimble for steady growth, riding policy support for new growth points, observers said.
For instance, in November last year, Ding Yandong, president of Rollmax Shutter Component Co Ltd, a Ningbo, Zhejiang province-based roller shutter component manufacturer, rode into bad luck upon arrival at Heathrow Airport, London.
His hectic seven-day business trip was to take him to as many as six cities in England and Wales. The goal was to retain old customers and seek new orders. But, a local railway strike threw a spanner into his schedule, forcing him to hire an expensive taxi — some 300 pounds ($375.7) for the 220-kilometer London-Norwich stretch — to keep his appointment with his first client, a local manufacturer of smart home products.
Every pound was worth it and then some, Ding said, as the meeting went on for around five hours, during which product samples and their functions were thoroughly understood. The British client was also able to dispel his own lingering concerns about Rollmax's products. An expression of intent was signed on the spot that later led to a new business order.
"Our European clients are very straightforward and tend to express doubts initially about the quality of Chinese products. But their exacting standards and expectations actually help us to increase the added value of our products," said Ding, noting many misunderstandings can be easily resolved through face-to-face communication.
With China introducing fresh policy measures to stimulate exports and support domestic companies' industrial upgrade, as well as make better use of bilateral and free trade agreements to sustain its economic growth this year, Ding no longer has a dire need to travel abroad. His trips dropped in the first half of this year as more foreign buyers visited his factory in Ningbo over the past four months.
Like heads of many domestic companies, he has been busy booking booths at and participating in large trade shows such as the China Import and Export Fair (Canton Fair), the Appliance & Electronics World Expo and the China International Industry Fair to land more orders. He has also been spending a lot of time to develop cost-effective products for clients in Southeast Asia, Latin America and the Middle East.
Thanks to China's optimized COVID-19 management policy, the operation of new shipping routes and fast-growing business sectors like new energy vehicles and solar batteries, the country is expected to further vitalize companies in the foreign trade sector while forging stronger trade cooperation with developed as well as emerging economies, market watchers and government officials said.
They said such endeavors will expand and upgrade China's trade and also will be conducive to global economic recovery, amid negative factors like protectionism and geo-economic fragmentation.
Supported by resurgent overseas demand, closer business ties with emerging markets and various efforts for industrial upgrade, China's foreign trade grew by 5.8 percent year-on-year to 13.32 trillion yuan ($1.92 trillion) in the first four months of 2023; exports rose 10.6 percent on a yearly basis to 7.67 trillion yuan, and imports edged up 0.02 percent year-on-year to 5.65 trillion yuan, data from the General Administration of Customs showed.
With many foreign retailers running out of stock since late last year, a large number of global businesspeople have started to order from Chinese exporters, said Bai Ming, deputy director of international market research at the Beijing-based Chinese Academy of International Trade and Economic Cooperation.