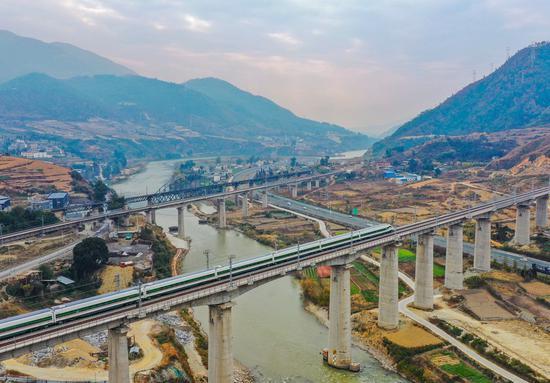 This aerial photo taken on Dec. 24, 2022 shows a Fuxing high-speed train making a trial run before the opening of the new Chengdu-Kunming Railway in Mianning County, southwest China's Sichuan Province. (Xinhua/Wang Xi)
Special: Two Sessions 2023
The past five years for China have been truly momentous and remarkable as the country has met numerous tests and made major achievements in economic and social development, according to a government work report submitted Sunday to the national legislature for deliberation.
China's GDP increased to 121 trillion yuan (about 17.5 trillion U.S. dollars), registering an annual growth rate of 5.2 percent during the period, it said, adding that the country achieved a medium-high rate of economic growth given its large economic aggregate and transitioned to high-quality development.
With eight years of efforts, close to 100 million poor rural residents and a total of 832 impoverished counties were lifted from poverty, including more than 9.6 million poverty-stricken people relocated from inhospitable areas, said the report.
Fruitful gains were made in scientific and technological innovation, with spending on R&D increasing from 2.1 percent to over 2.5 percent of GDP and the contribution of scientific and technological progress to economic growth exceeding 60 percent.
The economic structure was further improved. Digital economy continued to grow in strength. The value-added output of new industries and new business forms and models accounted for over 17 percent of GDP, the report said.
The country further upgraded infrastructure, with the length of in-service high-speed railways increasing from 25,000 km to 42,000 km.
Over the past five years, China deepened reform and opening up across the board to create a new pattern of development, and made a notable improvement in the business environment.
The ecological environment was significantly improved as energy consumption per unit of GDP dropped by 8.1 percent, and carbon dioxide emissions per unit of GDP fell by 14.1 percent.
People's living standards rose steadily, with personal income growing generally in step with economic growth, said the report.