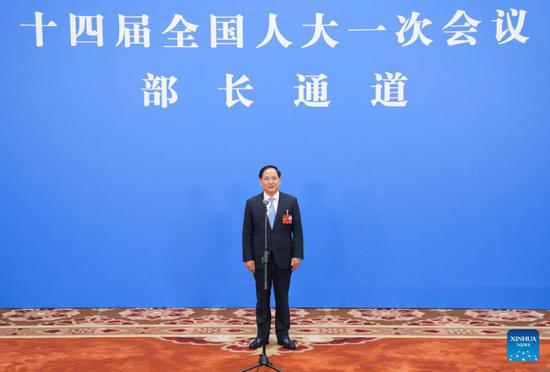 Minister of Industry and Information Technology Jin Zhuanglong gives an interview after the opening meeting of the first session of the 14th National People's Congress (NPC) in Beijing, capital of China, March 5, 2023. (Xinhua/Cai Yang)
Special: Two Sessions 2023
China will have built over 2.9 million 5G base stations by the end of 2023, Minister of Industry and Information Technology Jin Zhuanglong said Sunday.
The country plans to add around 600,000 such stations this year, and expand the coverage of 5G services in rural areas and industrial parks, Jin told journalists on the sidelines of the ongoing "two sessions."
China now has over 2.34 million 5G base stations, and the number of 5G cellphone users has surpassed 575 million, according to Jin, noting that 5G technologies are widely applied in the economy, most prominently in the sectors such as mining, power supply, and the making of large jetliners.
Jin said efforts will be made to promote industrial application of 5G, especially in manufacturing, with plans to build more than 10,000 5G factories during the 14th Five-Year Plan period (2021-2025).
Research and development of 6G will also be accelerated, drawing on advantages of China's super-large market and full-fledged industrial system, said Jin.
The "two sessions" refer to the annual meetings of the National People's Congress and the National Committee of the Chinese People's Political Consultative Conference.