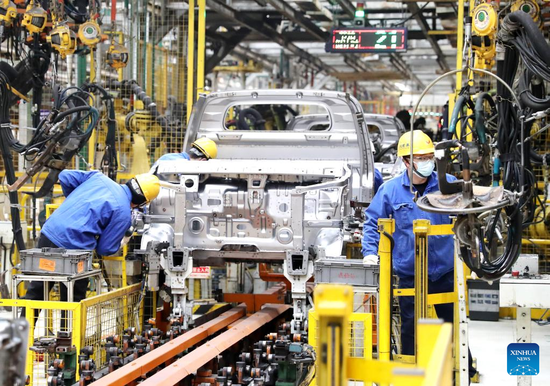 Staff members work at a workshop of an auto manufacturing enterprise in Qingdao, east China's Shandong Province, Jan. 28, 2023. Factories and companies across China resumed work after the Spring Festival holiday. (Photo by Zhang Jingang/Xinhua)
In Shanghai, more than 30 operators worked with a giant shield tunneling machine of 14.5 meters in diameter to form a solid lining structure at a tunnel construction site.
The tunnel, once completed, will further promote the integration of Puxi and Pudong, two sections of Shanghai, across the Huangpu River.
"This is a major project for Shanghai, as it will shorten commuting and logistics time for many people," said an on-site manager. "We are working day and night."
The same vigor and vitality apply to people across China as they return to work after spending the Spring Festival holiday with their families.
The holiday came after China's latest adjustment to the COVID-19 response. Convenient travels brought back hundreds of millions of homesick Chinese people for the grandest celebration of the year.
In the northeastern port city of Dalian, new projects with a hefty total investment of 83.86 billion yuan (about 12.36 billion U.S. dollars) were launched on Saturday alone. Less than a month into 2023, local authorities have planned to develop 3,200 projects, including 658 new ones.
At Youyi Pass on the China-Vietnam border, trucks carrying electrical and mechanical products for export formed a long queue near the pass, waiting for customs clearance. Truckloads of fruit from Southeast Asian countries also arrived before being shipped to other parts of China.
"The market is good, and customer orders are stable," said Han Qiuyang, general manager of Guangxi Wuhua International Trade Company. "This year, the total fruit import of our company is expected to grow 20 to 30 percent year on year."
Machines roared at workshops in Jilin Chemical Fiber Co., Ltd, a decades-old manufacturer in northeast China. The company has switched its focus to carbon fiber products, a transformation that has made it a major domestic supplier.
"With a good start this year, we will produce more and better carbon fiber products," said Cao Xu, a group head of a workshop in the company.
In a workshop of new energy vehicle (NEV) manufacturer BYD in Changsha, the capital of central China's Hunan Province, new models passed through advanced assembly and testing lines. Twelve NEV manufacturers have settled in Hunan, forming an industry with coordinated vehicle manufacturing development and auto parts production.
"Hunan will continue to upgrade traditional industries, like construction and machinery, while developing new sectors such as electronic information, NEV, and modern petrochemical to explore more growth drivers and create strong growth momentum," said Lei Shaoye, director of the Hunan provincial department of industry and information technology.
At an agricultural research and breeding base in south China's island province of Hainan, Zhang Qiuzhi, an associate professor with Beijing University of Agriculture, led a team of researchers in carrying out a series of testing for more than 40 mu (about 2.68 hectares) of silage corn.
"We can't afford to waste a single day at the base," Zhang said, explaining that the climate conditions of the base allow them to grow two or three seasons of corn a year, which speeds up the research process a lot.
"As long as we work hard, there will be hope for breakthroughs in the new year," Zhang added.