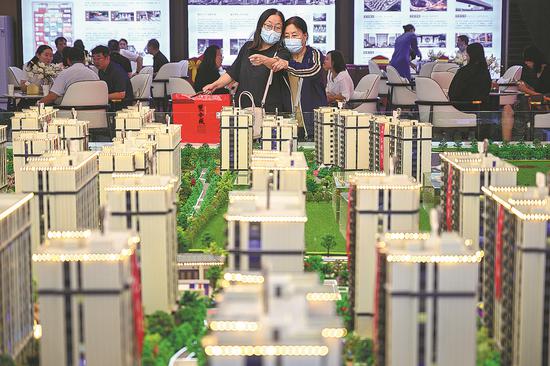 Potential homebuyers look at a property model in Taiyuan, Shanxi province. (Photo: China News Service/Wei Liang)
Home sales in China are likely to recover as some cities are being allowed to relax mortgage rate minimums for first-time homebuyers, adding fuel to the country's unfolding economic rebound, analysts said on Friday.
They made the remarks after viewing the new mechanism that allows cities to adjust regulatory minimums for mortgage rates based on changes in local housing prices, according to the People's Bank of China, the country's central bank, on Thursday.
Under the mechanism, cities whose new home prices fall for three months in a row on both a monthly and yearly basis are allowed to temporarily maintain, lower or remove the local lower limits on mortgage rates for first-time homebuyers, the PBOC and the China Banking and Insurance Regulatory Commission said in a joint statement.
Also pointing to regulators' increasing support for reasonable home buying demand, Ni Hong, minister of housing and urban-rural development, told Xinhua News Agency on Thursday that down payments and mortgage rates for first-time homebuyers should be reduced wherever appropriate.
Thanks to the new mechanism, analysts said about half of the country's 70 major cities are eligible to relax local first-time home mortgage rate minimums in the near future.
Cheng Qiang, chief macroeconomic analyst at CITIC Securities, said 38 out of the 70 big and medium-sized cities are eligible for adjustable mortgage rate minimums.
Reducing mortgage rates will help stabilize home sales and improve real estate development, Cheng said, adding that they play an "indispensable" role in expanding domestic demand by boosting investment along the real estate industry chain and unleashing consumer demand for appliances, furniture and decor.
Once local new home prices rise three months in a row, cities should restore local mortgage rates to the national minimum, which stands at 4.1 percent at present, according to the new mechanism.
Yan Yuejin, director of the E-house China Research and Development Institution, said the mechanism has extended a short-term measure launched in September into a long-term policy, giving local governments the flexibility to adjust mortgage rates to fit local market conditions.
In September, the PBOC allowed cities with sustained home price declines to relax first-time home mortgage rate minimums until the end of last year.
"Based on the central government's strong resolution to stabilize home prices, we believe this round of home price adjustments has bottomed out," said Xu Xiaole, chief analyst with Beike Research Institute. He added the transaction volume of preowned homes in the 50 cities Beike monitors saw 4 percent growth in December from a month earlier.
Zhuge Real Estate Data Research Center said in Dongguan, Guangdong province, property sales surged after local home purchase restrictions were lifted on Dec 26. A total of 933 housing units were traded across the city during the week through Monday, soaring 950 percent from the previous week.