(ECNS) -- The Chinese side has made full preparations for the return of Ya Ya and will coordinate more closely with the U.S. institutions concerned to complete a pre-departure health evaluation and send the giant panda safely home as soon as possible once the export permit is issued, Chinese Foreign Ministry spokesperson Wang Wenbin said on Tuesday.
"Based on what we have learned from relevant authorities, according to the giant panda collaborative research agreement between the Chinese Association of Zoological Gardens and the Memphis Zoo, their cooperation expired on April 7," Wang said.
The U.S. Fish and Wildlife Service will issue an export license for Ya Ya and Le Le in accordance with required procedures after the comment period ends on April 12, according to the spokesperson.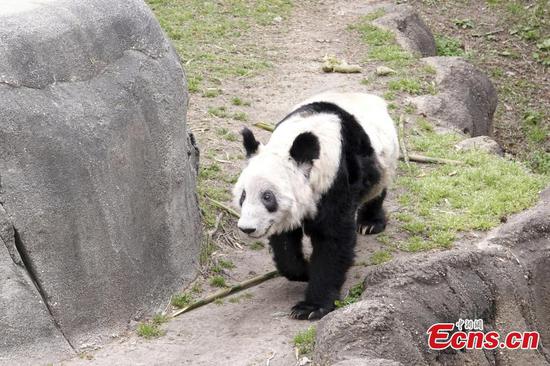 Giant panda Ya Ya plays at the Memphis Zoo in Tennessee, the United States, April 8, 2023. (Photo/VCG)
He said an expert from the Chinese Association of Zoological Gardens and two technicians from the Beijing Zoo are now working with the Memphis Zoo on the caring of the giant panda and they have got a general understanding of the daily care of Ya Ya.
The overall condition of the giant panda is relatively stable except for the fur condition caused by skin disease, he added.
The Chinese side has already made preparations to welcome Ya Ya home in terms of quarantine sites, living quarters, feeding plans, medical care and feed supplies, he said.