By Chen Tianhao
(ECNS) –The just-concluded "Two Sessions" have chartered the future plan for China's development. Amid mounting economic pressures globally, how will China's economy maintain steady growth with resilience and vitality? Rana Mitter, a professor of modern Chinese history and politics at the University of Oxford, shares his views during an exclusive interview with China News Network.
After China adjusted its COVID-19 measures, a lot of people will expect to see how far and how fast China's economy will grow, Mitter says.
Mitter points out that China's 14th Five-Year Plan, which is currently underway, "is keen to stress green energy growth and the need to stimulate domestic consumption." Thus, "looking at those areas will be really important", he adds.
China is now walking on a path of green, low-carbon and sustainable development. As the Mexican newspaper El Financiero has reported, China's green energy technology has helped companies in many countries lower the cost of solar panels and wind power generation.
Mitter pointed out that where China's government invests to ensure its place as a key player in the green energy revolution, both domestically and abroad, would be key.
In its stride towards modernization, China, with a huge population, is putting people first and aiming at common prosperity for all, Mitter says. He also noticed some challenges during the process, "China has been getting richer in the last few years, but also its overall demographic is now older".
According to the National Bureau of Statistics of China, the population of people aged 60 or above will rise from 280 million to around 400 million by 2035.
"That means in the 2020s, 2030s, and 2040s, China will rethink how older people are looked after; where the pharmaceuticals and medicines and hospitals will come from; and what about the people who are going to care for older people as they get older."
Though these are not easy for any government, "China is only at the beginning of that debate," Mitter explains.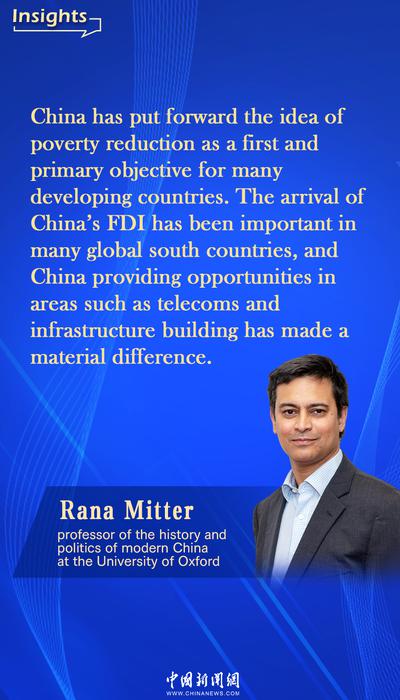 China's poverty reduction achievement is an inspiration to global south countries: Rana Mitter (Photo: China News Network/Wang Luyao)
Mitter also appreciates China's contributions to world poverty alleviation, saying "China has put forward the idea of poverty reduction as a first and primary objective for many developing countries." He adds that "China's investment has been important in many global south countries, and China providing opportunities in areas such as telecoms and infrastructure-building has made a material difference."