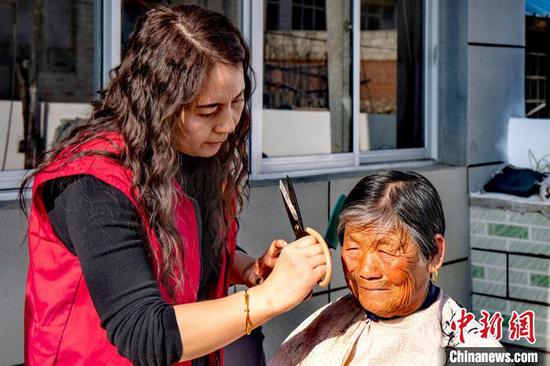 A volunteer cuts hair for a senior. (Photo provided to China News Service)
(ECNS) -- A female volunteer team in Gushanzi village of Chengde City, Hebei Province, has supported at least 23 families in difficulty since 2020.
The team initially had 29 members when it was established and has 46 members now.
They help cut hair for the elderly, buy medicine, send them to the hospital, and do housework for them.
Liu Yanli, 44, is one of the people who need help. In 2019, she was paralyzed by illness and could not take care of herself. Her husband has to work in a village enterprise during the day and take care of two children and his wife after work, which leaves him exhausted every day.
"We decided to help her and her family once a week and that has lasted for over two years," said the team leader Ma Xiuyun. The volunteer work includes helping Liu wash her hair, cut her nails and do some housework.
"Some families are not impoverished, but lack helpers," Ma explained.
Liu Bao, the husband of Liu Yanli, expressed his gratitude to the volunteer team. "I am so grateful to them. The volunteer service team has helped me a lot. My home has been a mess over the past two years. With their help, I feel relieved," he said.
"Housework is hard work sometimes, but I feel quite accomplished and happy to see their homes become clean and tidy," said Cai Guoping, a 52-year-old volunteer.
Ma told China News Service that there are only eight families who need help because some people have recovered and some have children to take care of them. Now, less people need help, but volunteers have expanded services, ranging from sanitation work in the village, road snow cleaning in winter, and tree planting to public facility maintenance and volunteer work for schools.
The team has served more than 900 times with a total duration of over 2,500 hours.