(ECNS) -- New Twitter owner Elon Musk said Thursday that he will grant "amnesty" for suspended accounts starting next week.
Musk's announcement came after he posted a yes or no poll on Twitter for accounts that have not "broken the law or engaged in egregious spam."
The feedback is 72.4 percent says yes.
"The people have spoken. Amnesty begins next week. Vox Populi, Vox Dei," Musk tweeted.
"Vox Populi, Vox Dei," is a Latin adage meaning "The voice of the people is the voice of God." He has used the phrase when talking about other Twitter polls.
But some analysts believe polls on Twitter are unscientific and potentially targeted by fake accounts and bots.
"While Musk has 118 million followers, many of Twitter's 450 million monthly active users might never have seen the poll question," AFP reported.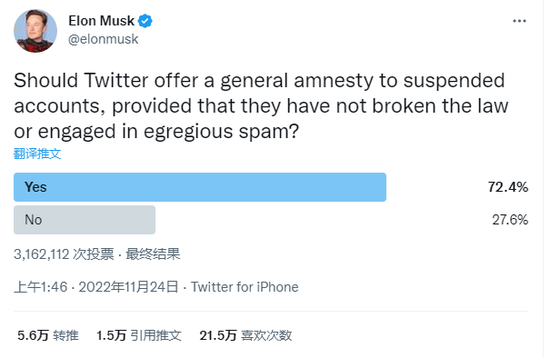 (Screenshot from Twitter)