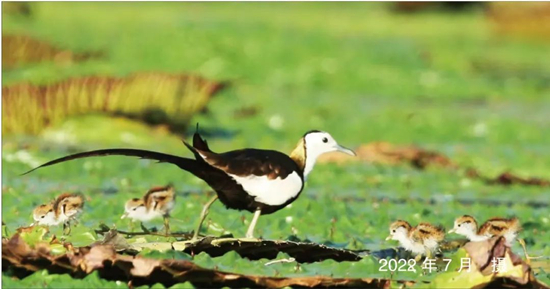 Jacanas nesting and breeding in Baiyangdian.(Photo provided by the Publicity Department of the CPC Hebei Provincial Committee)
By Zhao Baoyun and Cui Tao
(ECNS)--Baiyangdian Lake in Xiong'an New Area, Hebei Province, has become a paradise for birds including some rare ones such as the Baer's Pochard, a critically endangered species of diving duck, and jacanas, a national second-class protected birds.
Currently, a total of 237 species of birds inhabit Baiyangdian, 31 more than that before Xiong'an New Area was established.
With bittlerling, an indicator species of ecological improvement, returning to Baiyangdian, the fish species in the wetland has recovered to 46 species, 19 more than that before the establishment of the Xiong'an New Area.
"In recent years, we have taken integrated measures to improve the ecological quality of the whole basin. With pollution-control and environmental management, the water quality reached Grade III," according to Cheng Gang, deputy director of Ecological Environment Bureau of the Administrative Committee of Xiong'an New Area.
Baiyangdian Lake, northern China's largest freshwater wetland, covers about 360 square kilometers with 143 small lakes. Dubbed North China's "kidney", Baiyangdian has great significance to maintain the ecological environment in North China.
The improvement happened thanks to a series of measures taken to protect the ecological environment of Baiyangdian.
Aside from further purifying the upstream water and shutting down more than 13,000 poorly-managed, small polluting enterprises, Xiong'an New Area has removed about 11,000 illegal sewage outlets and pushed forward 39 tail water discharge projects, Cheng said.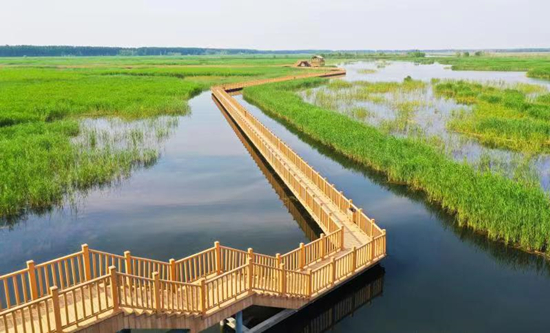 Scenery of Baiyangdian Lake. (Photo provided by the Bureau of Publicity and Network Information of the Xiong'an New Area)
According to Cheng, efforts have also been made to promote dredging and water replenishment. Altogether 420 fish ponds have been renovated and more than 200 kilometers long dike and cofferdams have been demolished. Thanks to the regular, precise and scientific water replenishment mechanism, Baiyangdian has been replenished with more than 3.4 billion cubic meters of water up to now, Cheng added.
An intelligent monitoring network, which integrates big data, 5G, artificial intelligence, block chain, remote-sensing and other cutting-edge technologies, has been built to strengthen the capabilities of early warning and the protection of water quality.
Through a smartphone app, you can see the data including water temperature, pH, turbidity, algal cell density and other water quality indicators," said Cheng.
In Cheng's view, besides having much more clear water, Baiyangdian Lake should also become a paradise for birds.
To this end, by scientifically designated nine bird habitats in Baiyangdian, which would be administered at different levels and zones, Xiong'an New Area is gradually building ground ecological observation stations and improving biodiversity monitoring system and thus providing a good environment for creatures to live and reproduce.
"Next, the water in Baiyangdian Lake will reach the Taihang Mountains in the west and flow into the Bohai Sea in the east. Unlocking the migration channels of aquatic life will be conducive to restoring the biodiversity of Baiyangdian. We believe that the future of the Baiyangdian will be more colorful," Cheng said. (End)