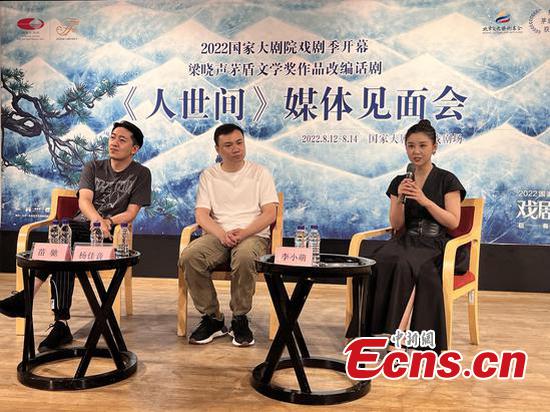 Cast of drama A Lifelong Journey attend a press conference in Beijing on Aug. 11, 2022. (Photo: Ecns.cn/Zhao Li)
(ECNS) -- A Lifelong Journey, a drama adapted from Chinese writer Liang Xiaosheng's novel of the same title that won one of China's top literature awards, is set to be performed at China's National Center for the Performing Arts(NCPA) on Friday to usher in NCPA Theatre Festival 2022.
The drama presents the life trajectory of the leading male character Zhou Bingkun, who lives in "Guangzipian" neighborhood in a provincial capital of northern China. It demonstrates the ups and downs of real life and the struggle of a dozen ordinary children.
"I think the drama is more like a Bible for the ordinary person. It tells how people get through suffering. Facing hardships in life, some people may hold back, some may go with evil deeds or even commit suicide, while Zhou Binkun sticks to his kindness and commitment," Miao Chi, who plays Zhou told China News Network at a press meeting Wednesday.
"Some say the main character Zheng Juan is wise, but I think Zheng is nothing but optimistic. She has insight into people's nature and suffers to the extreme, but she still retains a kind heart. So I especially recommend the audience to comprehend the philosophy of life through this work," said Li Xiaomeng, who plays Zheng Juan.
Stage director Yang Jiayin said he was moved by Liang's appreciation of China's social changes in the past five decades while adapting the literary work of over 1.15 million Chinese characters.
"We are exploring more literature in depth, and hope to gain more recognition from audiences in the future," Yang added.
In 2019, Liang won the 10th MAO Dun Literature Award, one of China's top literature awards, with the work which took him eight years to finish and hailed as a brilliant record of ordinary Chinese life over the past 50 years.
In simple and vivid wording, Liang not only describes the sufferings and hardships of people in daily life but eulogizes those from the bottom of society, who help each other in adversity and sympathize with others.
The NCPA Theatre Festival 2022 will be unveiled in Beijing on Friday. From August to October, there will be 27 plays of six excellent dramas performed at the NCPA, bringing ancient and modern Chinese and foreign literary classics to stage, according to the organization.