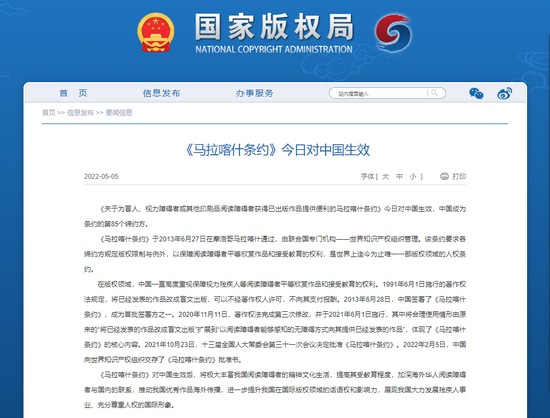 Screenshot from the official website of China's National Copyright Administration
(ECNS) -- The Marrakesh Treaty to Facilitate Access to Published Works for Persons Who Are Blind, Visually Impaired, or Otherwise Print Disabled (Marrakesh Treaty) entered into force in China on Thursday.
China is the 85th contracting party of the treaty.
The Marrakesh Treaty administered by the World Intellectual Property Organization (WIPO) was passed in Marrakesh, Morocco on June 27, 2013.
Its main goal is to facilitate and enhance access to copyright works in accessible formats for persons with print disabilities.
It is the only one treaty maintaining human rights in the copyright field in the world.
The Marrakesh Treaty was approved in China on Oct. 23, 2021 and submitted to the WIPO on Feb. 5, 2022.
The implementation of the treaty in China will greatly enrich the spiritual and cultural life of Chinese people with print disabilities, improve their education, and deepen the bonds between overseas Chinese with print disabilities and the country, said a person in charge of the National Copyright Administration.
Meanwhile, the treaty will also facilitate the international communication of excellent Chinese works and further improve China's discourse and influence in the global copyright sector, the official added.