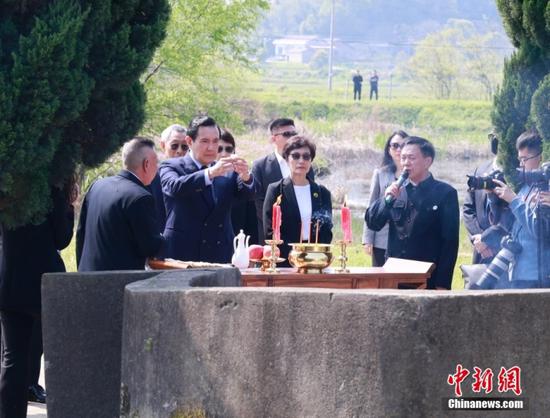 Ma Ying-jeou and his family visit the tomb of his grandfather to honor the family's ancestors, in Xiangtan county, Hunan province, April 1, 2023. (Photo/China News Service)
Ma Ying-jeou, former chairman of the Chinese Kuomintang party, fulfilled his long-cherished wish of paying respects to his ancestors in Hunan province over the weekend.
Ma and his four sisters traveled to Xiangtan, Hunan, on Saturday morning to worship ancestors and sweep the tomb of their grandfather ahead of Qingming Festival, also known as Tomb Sweeping Day, which falls on Wednesday.
The 72-year-old's ancestral worship journey on the Chinese mainland has attracted wide attention from people on both sides of the Taiwan Straits, as it was the first time he had set foot in his ancestral home.
During Ma's trip to the village of Shuangyang, where his grandfather's tomb is located, the local people greeted him with "Welcome home!"
Ma replied in a Hunan dialect, "The Xiangtan boy is back."
His grandfather, Ma Li'an, who was born in Xiangtan in 1868 and died in 1927, was a successful businessman and was devoted to helping the local community, including in the building of schools and a port.
On many occasions, Ma has mentioned his grandfather and the family motto that he left, which advocates studying hard and performing good deeds. The younger Ma included the motto on the title page of his doctoral thesis.
Ma said that paying respects to ancestors is a very important part of the Chinese people's ethical education. Although he never met his grandfather, since he previously had been unable to visit the mainland, he had always hoped to pay his respects to him.
"My wish of many years has finally come true," he said.
After lighting incense in front of his grandfather's tomb on Saturday morning, Ma read an elegy in the local dialect, sobbing several times and wiping away tears as he read.
"Dear grandfather, this is the first time in my life that I have come to the mainland to worship ancestors and visit relatives. I am very moved," he said. "Your legacy reminds us to love ourselves and pursue self-improvement, help others and be loyal to our duties."
Videos posted on social media of Ma worshipping his ancestors moved many netizens, as tracing one's ancestry and origins is crucial in Chinese culture.
The wide attention given to Ma's trip by people on both sides of the Taiwan Straits reflects the common pursuit of compatriots from the mainland and Taiwan, said Shen Xiaoming, secretary of the Communist Party of China Hu-nan Provincial Committee.
Shen met with Ma in Changsha, the capital of Hunan, on Saturday afternoon and welcomed him home, according to Hunan Daily.
Over the years, Ma has adhered to the 1992 Consensus and opposed "Taiwan independence", and has made important contributions to promoting the peaceful development of cross-Straits relations and the deepening of cross-Straits exchanges, which is highly appreciated, Hunan Daily quoted Shen as saying.
Hunan, with deep historical connections and close exchanges with Taiwan, will continue to create benefits for Taiwan people working in the province and support exchanges among young people from both sides of the Straits, Shen said.
He called on more people from Taiwan to come to Hunan, in order to promote the peaceful development of cross-Straits relations and strive for realizing the nation's rejuvenation.
Ma thanked Hunan for its warm reception during his visit.
He was born in 1950 in Hong Kong to parents who were from Xiangtan. Ma was the fourth child and only son among the five children. His family left Hong Kong for Taiwan in 1952.
On Friday, while in Hunan, Ma visited Zhounan Middle School, which his mother attended from 1933 to 1936.
He visited Hunan University on Sunday, where he met with students.
In a remark before visiting the university, Ma said, "I hope young people from both sides can exchange more to understand each other so as to deepen their friendship."
Ma, leading a group from Taiwan, arrived in Shanghai on March 27 for a 12-day visit on the mainland. The trip, including visits to Nanjing, Jiangsu province, Wuhan, Hubei province, and Chongqing, also has encouraged dialogue between young people on both sides of the Straits.