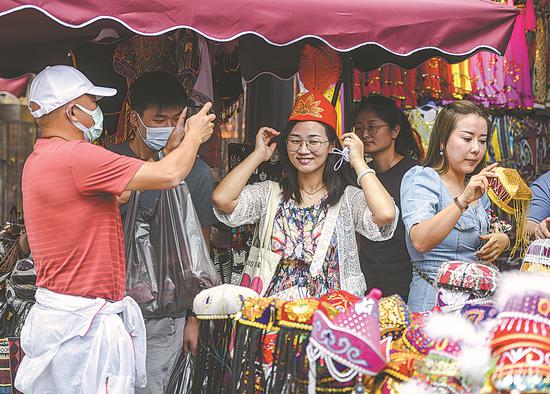 Tourists go shopping at the Xinjiang International Grand Bazaar in Urumqi, Xinjiang Uygur autonomous region, on July 7. (Photo/China News Service)
Special: Xinjiang
The Xinjiang Uygur autonomous region plans to achieve rapid economic growth in the next five years, according to the regional government's work report.
In the next five years, the growth rates of the region's key economic indicators are expected to exceed the national average, taking the region's economic development to a new level, Erkin Tuniyaz, chairman of the region, said while delivering the report during the opening session of the 14th People's Congress of the Xinjiang Uygur Autonomous Region on Saturday.
The region's GDP growth for last year is expected to reach 3 percent, and its goal for this year's GDP growth is about 7 percent.
"Furthermore, Xinjiang will achieve a high level of opening-up by stepping up efforts to make the region the core area on the Silk Road Economic Belt," Erkin said.
The region, which borders eight countries, including Pakistan, Kazakhstan and Tajikistan, will take advantage of its geographical location. All services at the 13 land ports have fully resumed, he added.
Xinjiang will further boost the development of an economic belt surrounding the land ports to deepen international cooperation in technology, education, medical care and finance, the report said.
It added that the high-quality development of the Urumqi International Land Port Area and the economic development zones in Horgos city in the north and Kashgar city in the south will be accelerated to spearhead the region's opening-up efforts.
More than 29,400 China-Europe railway express freight trains have passed through Xinjiang in the past five years, with an average annual increase of 23.6 percent. Last year, the region's foreign trade volume reached a record high of 240 billion yuan ($35.8 billion), while the trade volume with Central Asian countries increased 67 percent year-on-year, according to the report.
Dong Youhua, Party chief of the Development and Reform Commission of Kashgar Prefecture and a deputy to the regional people's congress, said opening-up and development will be Xinjiang's focus in the future.
"Opening-up will bring more opportunities for Xinjiang's development. It's clear that foreign trade in Kashgar will continue to grow. Also, more types of goods including machinery and new energy vehicles will be exported from Kashgar," Dong said, adding that the prefecture's foreign trade volume in the first 11 months of 2022 more than doubled year-on-year.
After successfully preventing acts of terrorism over the past five years, the regional government has made promoting law-based governance its top goal for the next five years, followed by keeping the social situation stable and modernizing governance systems and capacity, according to the report.
"We see that Xinjiang's current governance systems and capacity cannot fully meet the requirements of the new situation, and we need to face the problem head on," Erkin said.