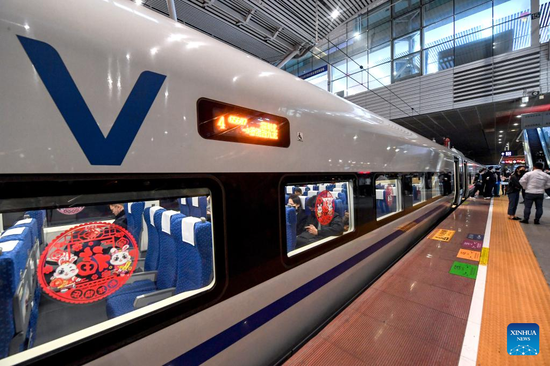 The train G5607 bound for Hong Kong is pictured at the Shenzhen North Railway Station in Shenzhen, South China's Guangdong province, Jan 15, 2023. (Photo/Xinhua)
Thousands of travelers took high-speed trains to travel between the Chinese mainland and the Hong Kong Special Administrative Region on Sunday, as more modes of transportation were revived for cross-border travel after a three-year hiatus.
Hong Kong and the mainland resumed high-speed train services on Sunday, with the number of passengers each way capped at 5,000 per day. Unlike travelers going through land ports, high-speed rail passengers do not need prior bookings to clear customs.
By 6 pm, about 6,500 passengers had used the resumed cross-border railway services, authorities said.
Many residents from Hong Kong were eager to take the train to visit the mainland on Sunday.
Lee Chun-leung, a Hong Kong undergraduate student at Shanghai Normal University, opted to take a high-speed train to return to Guangzhou, capital of Guangdong province, to spend the Spring Festival with his family. Lee came to Hong Kong last month to do an internship.
He said many students in Hong Kong like him enjoy the lifestyle on the mainland, and the high-speed rail service makes it easier for them to travel between the two places.
In Shenzhen, Guangdong, young couple Chen Yiming and his wife, both from Wuhan, Hubei province, boarded the first train leaving for Hong Kong at 7:24 am from Shenzhen North station.
Chen said they had to postpone their honeymoon due to the epidemic, but now that restrictions have been relaxed, they can finally enjoy it in Hong Kong.
Becky Ip, deputy executive director of the Hong Kong Tourism Board, told China Daily at West Kowloon Station on Sunday that the city's tourist attractions have rolled out new offerings to lure tourists after the resumption of cross-border travel. It is worth taking a tour on both sides of Victoria Harbour, where various art installations can be seen, she said.
Dane Cheng, executive director of the Hong Kong Tourism Board, said tourism is growing in Hong Kong again, albeit slowly. Still, Cheng is expecting better times for the industry.
Huang Bing-yen from Taiwan was satisfied with his first high-speed rail trip to Hong Kong to visit his family. The ride from Shenzhen was smooth and only took about 20 minutes, Huang said.
Colleagues Yao Min and Li Jiewei arrived in Hong Kong from Guangdong for a business event on Saturday. The pair, both graduates of the University of Hong Kong, said they had not been back to the city for about three years and were eager to see their friends again.
After welcoming the first group of passengers to Hong Kong at West Kowloon Station, Lam Sai-hung, secretary for transport and logistics, said authorities would check whether there was room for additional trains depending on the situation.
On Saturday, the government announced plans to increase the travel quota for Hong Kong residents traveling to the mainland via three land ports from 50,000 to 65,000 from Jan 18 to 21, which is Chinese Lunar New Year's eve.
Currently, an average of 38.5 pairs of high-speed trains run from stations in Guangzhou and Shenzhen to West Kowloon Station daily. Passengers in Hong Kong can board trains to Shenzhen's Futian, Shenzhen North, Guangzhou South and Guangzhou East stations.