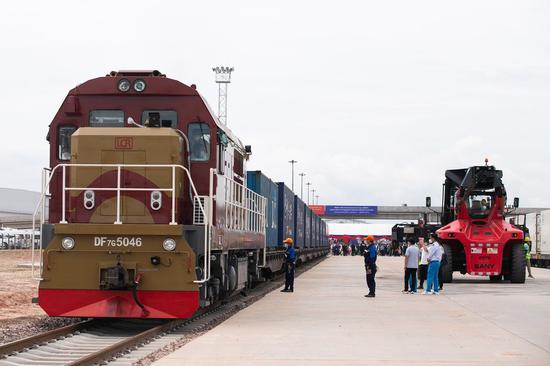 Cross-border goods are reloaded at a freight transit yard of China-Laos Railway's Vientiane South Station on July 1, 2022. (Photo by Kaikeo Saiyasane/Xinhua)
Li to visit Cambodia for meetings with Southeast, East Asian nations' leaders
Premier Li Keqiang reiterated on Monday China's firm support for the Association of Southeast Asian Nations' solidarity and centrality, saying that China and ASEAN countries' respective circles of friends can engage in constructive interaction and develop in parallel.
"Our ASEAN friends can rest assured that there will be no pressure from China for you to take sides, only encouragement for common progress in solidarity," Li wrote in a signed article published on Monday by leading media outlets in Cambodia, one day ahead of his six-day visit to the country.
Li will pay an official visit to Cambodia and participate in a meeting between China and member states of ASEAN and a meeting of China, Japan, South Korea and ASEAN countries, as well as the 17th East Asia Summit.
This will be the premier's first overseas trip since the outbreak of COVID-19 and his first face-to-face meeting with East Asian leaders in two years. It will also be the 10th consecutive time that Li has attended the series of leaders' meetings on East Asian cooperation.
Li said that East Asian cooperation over the past 10 years has maintained a general upward trend, despite the fluid international landscape.
For example, the Regional Comprehensive Economic Partnership, the world's largest free trade pact in terms of economic aggregate and population, has injected strong impetus into regional economic integration, economic globalization and free trade after it came into force at the beginning of the year.
"China and other countries in the region have made the best of our geopolitical proximity, economic complementarity, cultural affinity and our potentials to promote results-oriented cooperation," he wrote.
To keep the momentum of development going, Li said it is imperative that regional countries build on their historical experiences, seize current opportunities and open up new prospects for the future.
He called on China, Cambodia and countries in East Asia to stay committed to multilateralism and economic globalization in the face of the volatile international landscape and the treacherous global economic situation.
"Today's world, albeit rife with challenges, is brimming with hope," he wrote.
During his official visit to Cambodia, the premier will meet with Cambodian King Norodom Sihamoni and have talks with Cambodian Prime Minister Hun Sen.
Noting that the millennium-old friendship between the two countries has withstood the test of time, Li said this great friendship has transcended time and has remained as strong as ever, as a result of efforts and commitment of generations of leaders from both sides.
In the past few years, the China-Cambodia Free Trade Agreement was signed and entered into force. Bilateral trade exceeded $10 billion last year, two years earlier than expected.