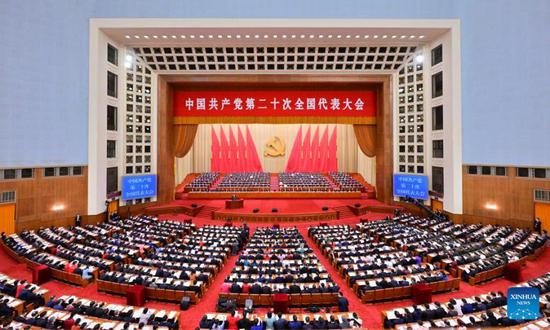 The 20th National Congress of the Communist Party of China (CPC) opens at the Great Hall of the People in Beijing, capital of China, Oct. 16, 2022. Xi Jinping delivered a report to the 20th CPC National Congress on behalf of the 19th CPC Central Committee on Sunday. (Xinhua/Yue Yuewei)
Special: 20th CPC National Congress
China will never seek hegemony or engage in expansionism, Xi Jinping said on Sunday at the opening session of the 20th National Congress of the Communist Party of China.
China stands firmly against all forms of hegemonism and power politics, the Cold War mentality, interference in other countries' internal affairs, and double standards, Xi said.
China remains firm in pursuing an independent foreign policy of peace. It has always decided its position and policy on issues based on their own merits, and it has strived to uphold the basic norms governing international relations and safeguard international fairness and justice, Xi said.