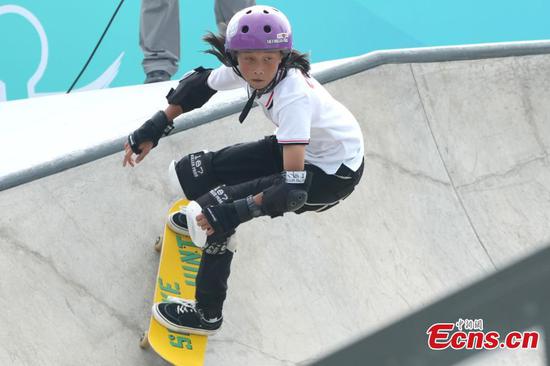 Cui Chenxi of China competes during the Women's Street Final of Skateboarding at the 19th Asian Games in Hangzhou, east China's Zhejiang Province, Sept. 27, 2023. (Photo: China News Network/Tian Bochuan)
(ECNS) -- Cui Chenxi, 13, won gold in the women's street style skateboarding competition at the 19th Asian Games in Hangzhou, Zhejiang Province on Wednesday.
Cui is the youngest Chinese participant at the Hangzhou Asian Games and has become the youngest champion in the country's Asian Games history.
Her skateboarding father inspired her to pick up the sport at age 3. In 2020, at the age of 10, she formally embraced the discipline.
Recalling the first time her father gave her a skateboard, she said she felt like it was "love at first sight" and "just loved it."
Cui mentioned that she initially didn't plan to be a professional skater, but as she continued training, she eventually earned a spot on the national team.