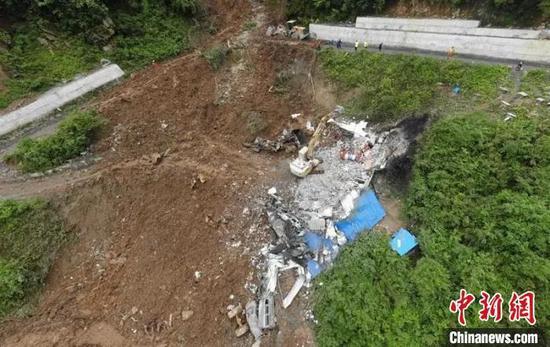 Photo shows the resuce site of a mountain collapse in Leshan, Sichuan Province, June 4, 2023. (Photo/China News Service)
(ECNS) -- A total of 19 people were killed in a mountain collapse on Sunday in Leshan City, southwest China's Sichuan Province.
The collapse happened at around 6 a.m. in a forest farm in Yongsheng Township, Jinkouhe District of the city, with some production and living facilities and vehicles of a phosphorite mine buried.
More than 180 rescuers carrying professional equipment have been dispatched by Leshan to the scene. And rescue forces from other cities including Meishan and Ya'an also rushed to the site.
Currently, the on-site search and rescue has ended, and workers in the mining area have been evacuated to a safe place.
An investigation into the cause of the mountain collapse is underway.