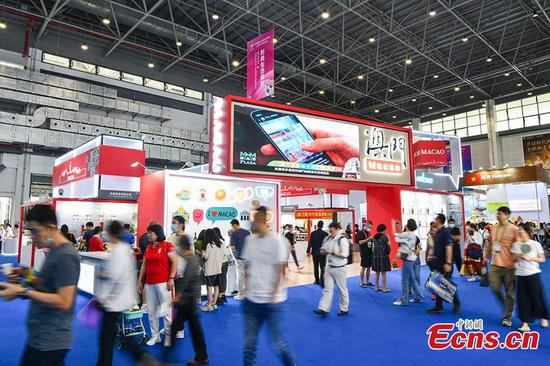 Visitors are seen in the Macao Exhibition Hall at the Third China International Consumer Products Expo held at Haikou, South China's Hainan Province, April 13, 2023. (Photo: China News Service/ Luo Yunfei)
(ECNS) -- The third China International Consumer Products Expo (CICPE), which hosted more than 3,382 brands from 65 countries and regions, concluded on Saturday in Haikou, Hainan Province. As the conference and exhibition industry gradually recovers, China is unleashing great economic momentum.
According to statistics of the Ministry of Commerce, exhibition activities in China are accelerating. From January to February in 2023, 184 exhibitions were held across China, up 1.1 times year-on-year, accounting for about 90 percent of the same period in 2019.
The third CICPE was the first large-scale offline international expo after China optimized its COVID-19 response. Relying on beneficial policies of Hainan Free Trade Port, overseas enterprises opened factories and some even set up their headquarters here.
Other large expos in China also promise a good prospect of the country's economy. For example, the current contracted area of the 6th China International Import Expo (CIIE) to be held in November this year has exceeded 230,000 square meters, showing the overseas market's confidence in China's market.
By the end of March, nearly 30 countries and international organizations had initially confirmed that they would attend the China International Fair Trade in Services 2023 (CIFTS).
The 133rd China Import and Export Fair have resumed offline exhibitions, attracting buyers from over 220 countries and regions.
CIIE, Canton Fair, CIFTS, and CICPE are based in Shanghai, Guangzhou in Guangdong Province, Beijing, and Haikou respectively, radiating the Yangtze River Delta, Pearl River Delta, and Beijing-Tianjin-Hebei Region, thus playing an important role in leading regional development and building platforms for different industries.
Sophia Chong Suk-fan, deputy executive director of the Hong Kong Trade Development Council, said from April 19 to 22, seven events will be held at the Hong Kong Convention and Exhibition Center, including six exhibitions, such as Hong Kong International Home Textiles and Furnishing Fair, Hong Kong Gifts and Premium Fair, and Hong Kong Printing and Packing International Fair.
The six exhibitions have attracted more than 3,800 exhibitors from 23 countries and regions to register.
The prosperity of large expos like CIIE and CICPE bring certainties to the recovery of China's conference and exhibition industry and opportunities to the industry as well, said Wu Fei, founder of ExpoSCM.
"Various offline expos help enterprises related to exhibition engineering, advertising, and logistics in the exhibition industry chain gain more orders," Wu said.
Moreover, Commerce Minister Wang Wentao said China will hold a series of activities to boost consumption, with exhibitions of different themes held every month.