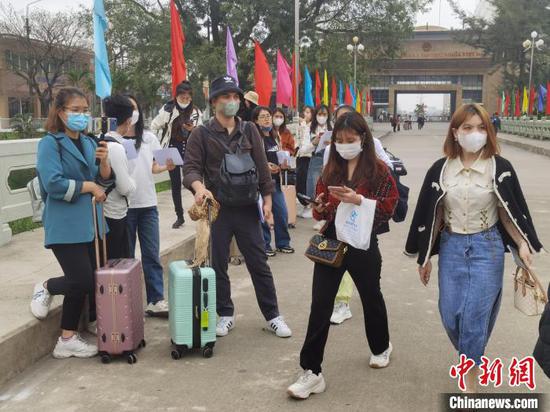 Tourists from Vietnam cross the Beilunhe Bridge of Dongxing, south China's Guangxi Zhuang Autonomous Region. (Photo/China News Service)
(ECNS) -- A tour group left China via the Dongxing Port in Guangxi Zhuang Autonomous Region on Wednesday and was warmly welcomed by the Mong Cai Port in Vietnam.
As the first batch of Chinese tourists to Vietnam in the past three years, they will spend four days in the country.
"We welcome more and more Chinese tourists to visit Vietnam, and Vietnamese tourists also want to travel to China. I hope that customs clearance can be more convenient," said a Vietnamese tour guide who has engaged in this industry for over 20 years.
According to the tour guide, in the past three years, her work has stopped, and she had to make a living through catering.
China's Ministry of Culture and Tourism announced last Friday to resume outbound group tours for Chinese citizens to another 40 countries including Nepal, Vietnam, Iran, France, Spain, Italy, Greece and Brazil since March 15.
According to Zhong Qianying, a staff member from the exit and entry management department of Dongxi Public Security Bureau, over 100 certificates for one-day trips to Mong Cai have been handled on Wednesday when China-Vietnam cross-border travel officially resumed.
But in 2019, over 7,000 certificates for a one-day tour to Mong Cai were issued in one day at most, said Zhong.
Huang Xiaoqiu, general manager of a travel agency based in Dongxing, said she and her colleagues were very happy to see the resumption of cross-border tours between Dongxing and Mong Cai.
There were many domestic and foreign counterparts and tourists who had consulted her about cross-border travel, she said, adding that tourist routes consulted were more diverse than before.
Border police officer Lv Wei from Doxing checkpoint said they will open more inspection channels in time according to passenger flow to ensure safe and rapid customs clearance of passengers.
"Mong Cai and Dongxingare rich in tourism resources, and I hope to strengthen cross-border tourism communication with Dongxi to prosper the tourism markets of both sides," said a Vietnamese official.