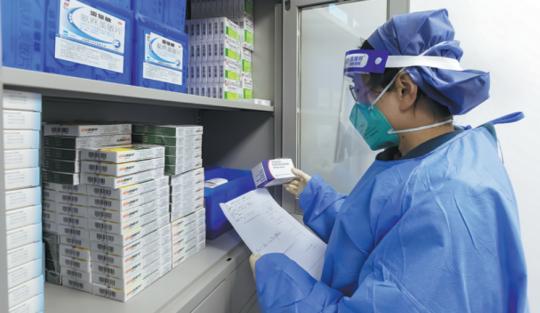 Pharmacists check prescription information at a fever clinic in Minhang district of Shanghai on Jan 8, 2023. (Photo/XINHUA)
(ECNS) -- Two domestically developed oral COVID drugs SIM0417 and VV116 have been granted conditional approval to enter the Chinese market by the National Medical Products Administration (NMPA), the body announced on Sunday.
Both SIM0417 and VV116 are available for the treatment of adult patients with mild and moderate COVID-19 symptoms. Patients should use the two drugs as strictly guided by doctors.
SIM0417 (Xiannuoxin in Chinese), co-developed by Nanjing-based Simcere Group, the Shanghai Institute of Materia Medica and Wuhan Institute of Virology under the Chinese Academy of Sciences, is a highly active small molecule candidate COVID-19 drug that targets the 3C-like protease, a key enzyme in the replication and life cycle of coronaviruses, including SARS-CoV-2.
VV116 is just as effective as Paxlovid in increasing the speed of clinical recovery, according to a scientific study published in the New England Journal of Medicine.Its developers include several institutes under the Chinese Academy of Sciences.
More research results will be submitted to the NMPA within a time limit as required by the regulator.