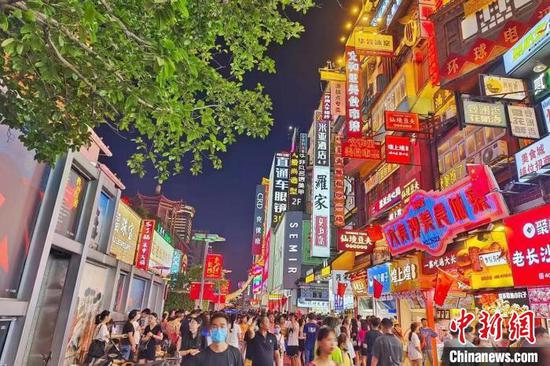 Night economy booms in Changsha, Hunan province. (Photo/China News Service)
(ECNS) -- Over 20 provinces and municipalities in China have released per capita disposable income data for 2022, with figures in Shanghai and Beijing exceeding 70,000 yuan (about $10,300), far ahead of other provinces and municipalities.
Official data shows that per capita disposable income in Shanghai for 2022 reached 79,610 yuan, ranking first in China, followed by Beijing with 77,415 yuan, which exceeded 70,000 yuan for the first time in 2021, while Shanghai exceeded 70,000 yuan in 2020.
Per capita disposable income in Zhejiang reached 60,302 yuan in 2022, surpassing the threshold of 60,000 yuan for the first time. Figures in Jiangsu, Tianjin, Guangdong, and Fujian last year hit 49,862 yuan, 48,976 yuan, 47,065 yuan, and 43,118 yuan respectively.
In 2022, per capita disposable income nationwide36,883 yuan, up 5.0 percent over the previous year in nominal terms. After deducting price factors, the real growth rate was 2.9 percent.
According to the published data, per capita disposable income in eight provinces and municipalities including Shanghai, Beijing, Zhejiang, Jiangsu, Tianjin, Guangdong, Fujian, and Shandong in 2022 surpassed the national average, with the gap between urban and rural residents continuing to narrow.
In addition, the income of residents in central and western China has increased rapidly. In 2022, the COVID-19 epidemic had less influence on the economy in these areas and the prices of energy and raw materials remained high, which has driven local per capita disposable income to increase by 6.0 percent and 5.3percent respectively, 1.0 and 0.3 percentage points faster than the national income growth rate.
Per capita disposable income of residents in eastern and northeast China increased by 4.5 percent and 2.9percent, respectively.