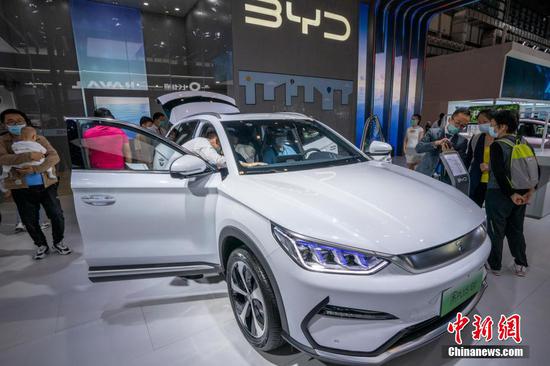 Photo shows a China-made new energy vehicle at a car exhibition held in Hainan, Nov. 4, 2022. (Photo/China News Service)
(ECNS) -- Data from China Automobile Dealers Association (CADA) shows that the European market is becoming a new export destination for domestically-made new energy vehicles alongside Asia.
According to CADA, 90 percent of China-made NEVs were sold to Asia and Europe in the first three quarters of 2022. From January to September this year, Belgium, Britain and Thailand became the top three countries for the export of Chinese NEVs.
European countries have increased additional pollution tax on fuel vehicles, while providing subsidies for NEVs and reducing import tariffs, making the region the second largest export destination for China's NEVs.
From January to November 2019 through 2022, China's NEV export volume has increased from 70,000 to 593,000, accounting for 7 to 21 percent of total automobile exports, said CADA.
In 2021, China's NEVs exports accounted for 1/3 of the world's total, making it the largest new energy exporter in the world, said Wang Jinzhao from the Development Research Center of the State Council.
According to data of EV-volumes, a global electric vehicle database, BYD Qin Plus DM-i, Li Auto One, BYD Han EV, Changan Benben E-Star, and other China-made vehicles were included in the list of top ten new energy vehicle sales in the world for 2021.