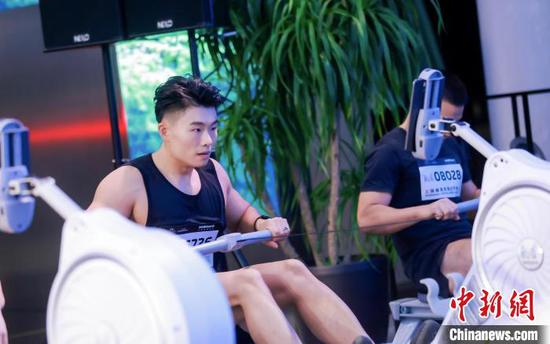 A player competes in a virtual rowing competition held in Shanghai, Oct. 27. (Photo provided to China News Service)
(ECNS) -- A Virtual Rowing Invitational of the Shanghai Virtual Sports Open (SVS) was held Thursday.
Contestants participated via digital technologies and simulators in the two-kilometer virtual race track of Huangpu River against the background of Lujiazui, the financial zone of Shanghai.
Xu Zhigang, an official in charge of science and technology sports in the city, said virtual sports are attracting more participants, especially young people. "Technology empowering the development of sports has removed the barrier between the real and virtual sports," said Xu.
Relying on meta-universe technology, virtual sports are attracting more outsiders, which are of minority interest through human-machine interaction and high-tech means such as AI intelligence and scene simulation.
The SVS has widened the range of China's virtual sports and is expected to become a trend in the future, said You Huizhen, deputy director of a Shanghai-based company in charge of sport-related evaluation and consultation.