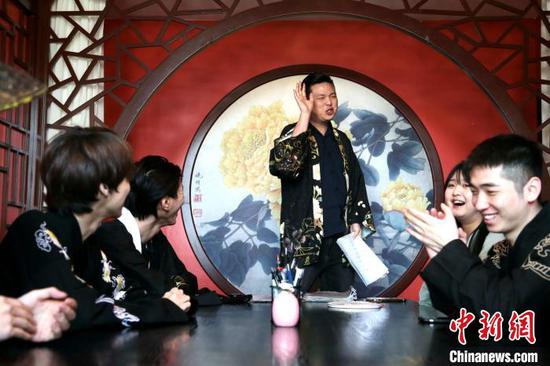 Young people enjoy tabletop role-playing game. (Photo/China News Service)
(ECNS)--Tabletop Role Playing Game (TRRG) is a kind of immersive game where participants act out characters from fictional stories at a table to uncover a murderer.
As a hit among Chinese youths, it boasts a huge market of over 10 billion yuan (about 1.6 billion U.S. dollars), indicating young Chinese are wild about unfamiliar socialization.
Liu Jiaqi, a big fan of TRRG and owner of three TRRG shops in Changchun, NE China's Jilin Province, said that most players were born in and after 1995. He is taciturn, but every time he immerses himself in TRRG, he turns cheerful. He said this game has cured his social phobia.
There are five to eight participants in a round of TRRG, with per capita consumption ranging from tens of yuan to one hundred yuan. Businessmen in cities like Beijing, Chengdu and Changsha are developing new modes of TRRG, for example, playing the game in real scenarios, etc.
In 2019, the market size of China's TRRG exceeded 10 billion yuan; in 2020, its market scale still reached 11.74 billion yuan against the backdrop of COVID-19, according to iiMedia Research, a third-party data mining and analysis organization of new industry.
"Group interaction can stimulate human emotions in interpersonal communication," said Pan Ge, a consulting psychologist. TRRG plots are riddled with ups and downs, with some players immersed in plots feeling healed, satisfied and compensated psychologically, said Pan.
TRRG fever among Chinese youths reflects their real mental states. Young people, especially those born in and after 1995, need to be involved in intimate relationships, including friendship and love, and TRRG plots enable them to develop such relationships, Pan added.