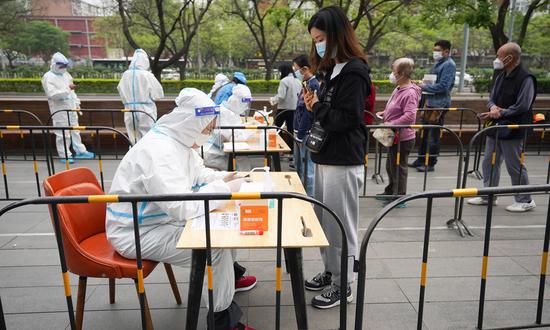 Staff members register for residents before nucleic acid test at a testing site in Chaoyang District, Beijing, capital of China, April 25, 2022.(Photo/Xinhua)
Special: Battle Against Novel Coronavirus
China's National Health Commission (NHC) vowed on Tuesday to continue stepping up supervision of nucleic acid testing firms and will severely punish illegal activities like giving false results, following some individual nucleic acid testing fraud cases that have attracted nationwide attention.
"We have always been strict in supervising nucleic acid testing firms' qualification entry and their testing quality, constantly optimizing technical norms and strengthening supervision of testing facilities, including private labs," Guo Yanhong, a senior official from the NHC, said at a press conference on Tuesday.
The comment came after local health bureaus in cities including Beijing, Hefei in East China's Anhui Province, Shijiazhuang in North China's Hebei Province found some cases of illegal activities by some testing firms, including Shenzhen Nucleus Gene Technology Co.
Shenzhen Nucleus Gene Technology Co has found itself in hot water over the past few days after an on-site inspection by local authorities in Lanzhou, Northwest China's Gansu Province revealed inconsistencies in the nucleic acid test results provided by the firm's testing subsidiary.
The Health Commission of Lanzhou said that staffers at the company's local testing laboratory wrongfully counted certain abnormal test results in a tally of negative results and uploaded them into the working system, and as a result the health codes of some people waiting to be transferred showed negative results.
In August, a medical testing unit in Changsha, Central China's Hunan Province linked to the Shenzhen firm's testing subsidiary was fined 20,000 yuan ($2,781.22) by the Changsha Health Commission for failing to obtain relevant medical qualifications, among other irregularities.
Shenzhen Nucleus Gene Technology Co was founded in April 2012. It has 46 subsidiaries and 31 laboratories nationwide. It has been granted 11 medical testing facility licenses and 20 forensic institute licenses, the STAR Market Daily reported on Monday, citing the company's introduction on display at the company's headquarters in Shenzhen.
Claiming to be the country's largest gene testing firm in terms of laboratory size and license numbers, Shenzhen Nucleus Gene Technology has already begun IPO plans, the report said.
The company couldn't be reached by the Global Times on Tuesday.
Experts and industry insiders said this is only an individual case, and the majority of the nucleic acid testing agencies across the country are working to their maximum capacity to cope with the latest COVID-19 resurgence.
"The incident ruined the credibility of many nucleic acid testing agencies. As far as I know, many labs are required to have samples for quality control, and local health authorities conduct selective examinations," an industry insider surnamed Chang told the Global Times.
According to official data released in April, China had 13,100 qualified nucleic acid testing institutions by then, and nearly 150,000 people working for them.
Zhuang Shilihe, a Guangzhou-based medical expert who closely follows public health issues, told the Global Times that nucleic acid testing is by far the most accurate method for spotting new virus strains, but it has a series of collection procedures and specifications, and even some professionally trained medical staff can't always meet the requirements, which may result in false negative results.
He said that rapid antigen tests should also be deployed for mass testing.
Chang suggested that local authorities could step up re-checking of testing agencies' results and put their names on a black list if there is illegal behavior and suspend their qualifications.
Tightening regulation
In fact, the authorities have been continuously stepping up supervision of nucleic acid testing firms, with local rounds of inspections conducted to guide companies ensure testing quality.
The health bureau of Southwest China's Chongqing Municipality has set up five inspection teams to carry out checks on 16 third-party nucleic acid testing firms, and it vowed to strictly punish illegal behavior, it said at a press conference on Monday.
It stressed that only medical institutions with biosafety level-II-plus qualification and a Medical Institution Practicing License can apply to conduct nucleic acid testing, and there will also be an on-the-spot review before relevant certificates are granted.
More importantly, local health bureaus conduct random sample testing to check the accuracy of third-party testing firms' results and those who fail the tests are suspended.
In May, three COVID-19 testing facilities in Beijing - Zhongtong Lambo Medical Testing Laboratory, Jinzhun Medical Testing Laboratory and Pushi Medical Laboratory - were charged over fraud that led to inaccurate results, with over 30 suspects put under criminal compulsory measures.
"Any illegal activity may increase the risk of spreading the epidemic. We have zero tolerance for that behavior and will severely punish it according to the law," the Beijing police said.
In addition, the Shanghai and Shenzhen stock exchanges said on November 21 that they will closely review domestic nucleic acid testing firms' IPO applications and strictly vet their application materials, including their operational sustainability.
Following the announcement, the Shanghai Stock Exchange said on November 23 that it has decided to cancel the IPO review for Yeasen Biotechnology (Shanghai) Co because further inspection is needed.
As a supplier of testing raw materials, COVID-19-related revenue has swiftly increased to nearly 40 percent of the company's total, according to media reports.