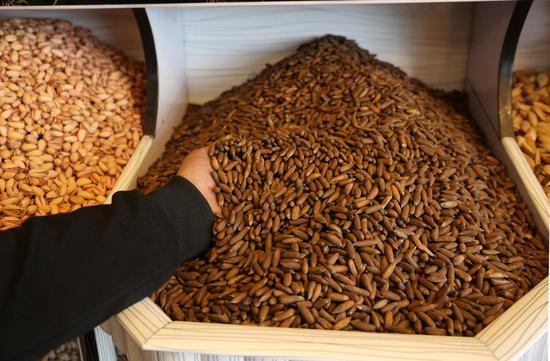 An Afghan man shows pine nuts for sale at his shop in Kabul, capital of Afghanistan, Nov. 14, 2018. (Xinhua/Rahmat Alizadah)
The Afghan administration has resumed the export of pine nuts via air corridor to neighboring China, a local television channel the Tolonews reported Monday.
"The export of pine nut to China after a pause of eight months resumed via air corridor today," Tolonews reported.
Acting Deputy Prime Minister Mullah Abdul Ghani Baradar, according to the media, hailed the step, saying that the export of Afghan products to China could bolster trade and economic relations between the two neighbors.
Pine nut trade with China has created thousands of jobs in Afghanistan, according to Afghan officials, despite the obstacles caused by the COVID-19 pandemic and the security situation in Afghanistan.