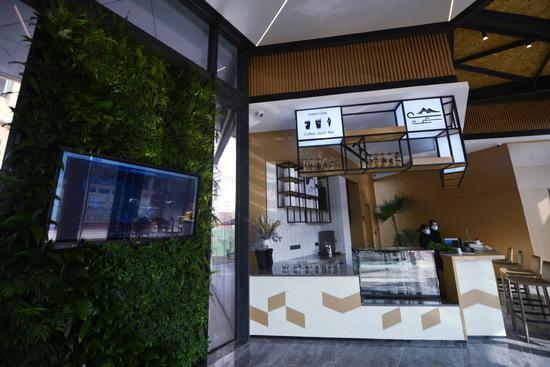 Receptionists at work at the 'green' lobby of a hotel in the Guashan Future Community in Hangzhou, Zhejiang province, on Jan 20. The hotel lobby is built on the green building design concept. (Photo by Long Wei/For China Daily)
LEED honor recognizes China's huge thrust on sustainability in construction
For the fifth consecutive year, China ranked top on the annual list of Top 10 Countries and Regions for LEED, outside the United States, in 2020, marking its progress in meeting its carbon neutrality goal by 2060.
The Leadership in Energy and Environmental Design, or LEED, is a globally recognized green building certification system, which measures a building's sustainability and resource-efficiency.
The rankings, released by the US Green Building Council, an independent not-for-profit organization, were based on certified LEED spaces. They also highlight countries and territories outside the US that are making significant strides in healthy, sustainable building design, construction and operations.
China took the top spot with an accumulative over 110 million square meters of certified LEED space. On the 2020 list, Canada, India, Sweden and Brazil took the second to fifth places respectively.
"We are proud to see China continue to be a global leader in LEED green buildings, which further demonstrates its resolve to achieve carbon neutrality by 2060," said Wang Jing, director of USGBC North Asia.
According to China's 2021 Government Work Report, the nation will make concrete efforts to peak carbon emissions by 2030 and achieve carbon neutrality by 2060.
Specifically, China will accelerate the green transformation of its development mode, and promote the coordinated development that balances high-quality economic growth and high-level ecological and environmental protection.
To move toward the goal, energy consumption per unit of GDP and carbon dioxide emissions per unit of GDP in 2021 will be reduced by 13.5 percent and 18 percent, respectively, according to the Government Work Report, which also promised to draw up an action plan for peaking carbon emissions before 2030.
In recent years, the country's authorities and industries have been scaling up their green efforts.
According to a recent report jointly published by the Industry and Innovation Research Institute of Hillhouse Capital, and Beijing-based Institute of Finance and Sustainability, eight major industries are closely related to China's carbon neutrality goal-construction, power, transportation, industry, new materials, agriculture, negative carbon emissions, and information, communication and digitization.
Wang from the USGBC said, "Around one-third of the global energy consumption comes from buildings, and the building and building construction sectors combined are responsible for nearly 40 percent of total direct and indirect carbon emissions globally."
She said China has made commendable efforts in reducing carbon emissions in the building sector for several years now.
"A few years ago, China had topped the LEED certificate markets outside the US. The trend of LEED certification was first brought to the country by international companies. Later on, domestic companies in various industries gradually participated. Green buildings as a concept has been gaining increasing awareness in the country," Wang said.
Data from the USGBC showed that in 2020, there were 1,190 newly added LEED registration projects in China-a 50 percent increase from the level in 2019.
"China's green building development has been rapid in recent years. Currently, taking Shanghai as an example of China's top commercial real estate markets, up to 48 percent of the Grade-A office buildings in Shanghai had acquired LEED certification. However, back in 2015, the figure was only around 10 percent," Wang said.
Apart from green buildings, China's efforts in reducing carbon emissions were evident in the electricity sector.
Consistent with its carbon neutrality goal, the Chinese government said on Dec 12 that by 2030, non-fossil fuel consumption should take up 25 percent of primary energy consumption, and total installed capacity of wind and solar power generation should surpass 1.2 billion kilowatts.
Official data showed that by the end of 2012, China's clean energy consumption had accounted for 23.4 percent of the total energy consumption, and its accumulative installed capacity of hydro, wind and solar power generation topped the world.
"Only when the country achieves the carbon emission reduction targets in the electricity sector, as well as ensures various segments of the national economy switch to use of electricity from fossil fuels, can it realize the goal of carbon neutrality," said Liu Yujing, a senior analyst at Bloomberg's wholly-owned unit BloombergNEF.
The report from Hillhouse and IFS highlighted the importance of eight major sectors, and said the government, private-sector enterprises and investment institutions should work together to achieve carbon neutrality.
"The government should launch clear action plans and price signals, enterprises should focus on carbon emission reduction in their core businesses, while financial institutions should promote green finance and green technologies," said the report.