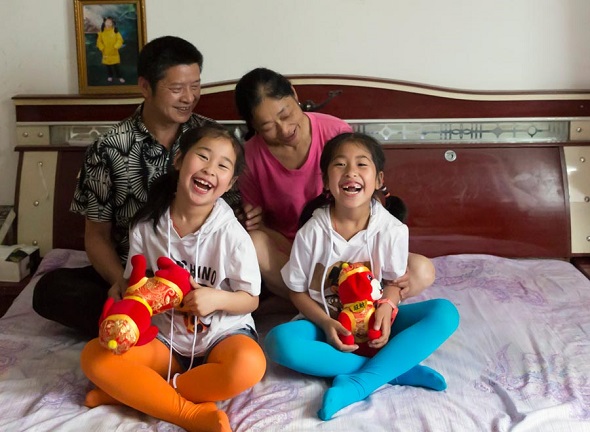 Ding Jiaxing and his wife, An Ping, pose with their 7yearold twin daughters Ding Siqi (left) and Ding Sihong, who were born after the Wenchuan earthquake, in their home in Beichuan county, Sichuan province, on Monday. A photo of An's elder daughter, who died in the earthquake 10 years ago, is on the bed's headboard. (Zou Hong/China Daily)
10 years after catastrophic quake in Sichuan, rebuilt communities thrive
It's common in China that newly married couples want to move into a new house. But for earthquake victim Bu Zhenying, the apartment in Beichuan Qiang autonomous county in Sichuan province was more than a house. It represented a new life. [Special coverage]
Bu, a divorced mother, lost her only son in the magnitude-8 earthquake that struck Beichuan on May 12, 2008. The quake claimed the lives of 69,227 people and injured 374,643 others.
"The moment I learned of the death of my boy, I felt another earthquake in my heart," the 45-year-old said.
As her life was falling apart, Bu received comfort and strength from Zhao Qin, her current husband. Zhao lost his wife in the earthquake, but their 3-year-old daughter survived. Bu, Zhao and the girl formed a new family in 2009.
Less than two years later, they were offered a residence in newly built apartments in the new Beichuan county seat, together with 7,396 other households. The area had been rehabilitated after the earthquake.
"It's very lucky that I could start a family again," Bu said. "I never thought I would hit the jackpot and have my own house in such a well-designed town. I now have a family and a home."
Beichuan Qiang autonomous county was the worst-hit area of the ferocious Wenchun earthquake. About 20,000 residents were killed or left missing, around one-fourth of the overall catastrophic death toll.
Ten years later, 38 counties and districts in Sichuan that were damaged or demolished have been reconstructed. New schools, hospitals, apartment buildings and parks have risen from the ruins. Places once devastated, such as Beichuan and Wenchuan (see photo below), have a new look.