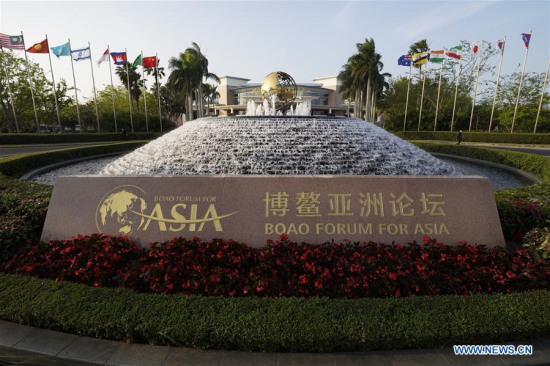 Photo taken on April 8, 2018 shows the Boao International Conference Center in Boao, south China's Hainan Province. (Xinhua/Xing Guangli)
In a world troubled by grave uncertainties over growing protectionism, China is highly expected to inject new vitality into globalization and free trade.[Special coverage]
All eyes are on Chinese President Xi Jinping, who will address the annual conference of Boao Forum for Asia (BFA) on Tuesday and is expected to flesh out plans for expanding reform and opening-up.
Tariffs have been proposed by the United States on billions of U.S. dollars of Chinese goods and trade tension between the world's two biggest economies has rarely been higher.
As the U.S. administration erects "walls," Asian nations, led by China, are seeking to build bridges. At the BFA annual conference, it is hard to find any attendee in favor of protectionism.
"Trade is about mutual respect, and nobody can stop globalization," said Jack Ma, founder and chairman of Chinese e-commerce giant Alibaba Group, as he warned against Trump administration's threatened trade war with China on Monday.
OPENING UP, MUSIC TO EARS
President Xi set out his defense of globalization at the World Economic Forum in Davos, Switzerland last year, just days before U.S. President Donald Trump took office.
The BFA annual conference is President Xi's first home-court diplomacy after he took his second term in March, where he is expected to reassure the world that China remains open for business.
Chinese Foreign Minister Wang Yi has revealed highlights of Xi's speech including unveiling new prospects for reform and opening-up, interpreting the new era of China's development, making new proposals for the future, promoting new progress in partnership, and injecting new impetus for BFA development.
Xi's remarks will come when the world's second largest economy is at a critical stage of advancing reform and opening-up launched 40 years ago. Reform is becoming more complex, sensitive and onerous. New measures are vital to raise market efficiency and release potential, putting the economy onto a sustainable and healthy path.
China's market liberalization effort in 2018 would exceed the expectations of the global community, senior Chinese official Liu He told the World Economic Forum in Davos earlier this year.
"We live in a fast changing world, and the global economy is undergoing more profound changes. We must therefore closely follow the trend of the global economy, identify its underlying dynamics, keep to the right direction, and, on that basis, take bold action," Xi told the APEC CEO Summit last year.
Hints of Xi's reform ideas could be found at the first meeting of the Central Committee for Deepening Overall Reform in late March which Xi presided over.
"The launch of deeper reform of the Party and state institutions marks a new stage for deepening reform in all areas," he said.
"The reform will further touch upon profound adjustment of interests patterns and changes of the system of institutions," Xi said, calling for efforts to strengthen and improve the Party's coordination and leadership.
PROTECTIONISM LEADS NOWHERE
"Why is the United States losing its confidence?" asked Zhang Yuyan,director of the Institute of World Economics and Politics at the Chinese Academy of Social Sciences.
The harder Trump pushes, the more confidence is lost for America, Zhang told the BFA annual conference.
The U.S. administration sees trade deficits as the central cause of its economic woes and the country's job losses.
But the United States is not going to get an easy win.
The United States has trade deficits with more than 100 countries due to structural problems. Without China, it would have to import goods from somewhere else and deficits would remain intact, and probably expand.
Importing from other nations with lower efficiency than China is nothing but raising retail prices or taxing U.S. consumers, Zhang said.
No countries can address their economic problems through protectionism, said Zhou Wenzhong, former secretary-general of the BFA.
"Protectionism leads nowhere," he said.
Asia's export-oriented economies should not fall into the protectionist trap but adapt to external changes, according to the BFA Asian Competitiveness Annual Report 2018 released on Sunday.
"Asian economies should liberalize their trade and make greater efforts in regional integration," Zhou said.
The Asian economies have more cooperation than competition. With different development stages, resources, policies and systems, Asian economies can complement and benefit each other, according to the Asian competitiveness report, which evaluates the competitiveness of 37 economies.
Driven by the Belt and Road Initiative, regional economic integration has accelerated. Chinese enterprises have built 56 economic and trade cooperation zones in over 20 countries, creating about 180,000 jobs and about 1.1 billion dollars in tax revenue, the report said.
SHARED FUTURE FOR ASIA
The destinies of the Asian countries have never been so closely intertwined as they are in today's globalized world. To boost regional integration, Xi called for building a community with a shared future for Asia in his speech at the BFA annual conference 2015.
Ready to share the dividends of its growth, China put forward the Belt and Road Initiative in 2013 and led the establishment of the Asian Infrastructure Investment Bank to address infrastructure needs across the continent.
"The Belt and Road Initiative is closely related to economic globalization and will enhance the competitiveness of Asia. That's why the initiative should be given priority and actively promoted among the Asian economies," reads the Asian competitiveness report.
The China-Pakistan Economic Corridor, a flagship project under the initiative, has not only improved local infrastructure but is extending toward Afghanistan, reducing poverty and bringing better prospects for local people.
The BFA annual conference 2018 runs from April 8 to 11. Globalization and the Belt and Road Initiative are among the key topics for discussion.
According to China's Ministry of Commerce, Chinese enterprises made 14.4 billion dollars of non-financial direct investment in 59 countries along the Belt and Road in 2017.