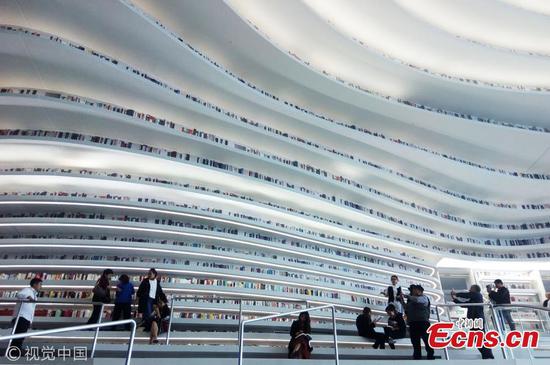 The roof and walls of the Binhai New Area library is pictured on Oct 2, 2017. As the flowing design resembles sea waves, many internet users commented, "Now I know what the 'Ocean of Knowledge' is." (Photo/VCG)
Architecture, a reflection of the beauty and trends of an era, is constantly changing. With the development of modern technology and concepts, China in recent years has been making a name for itself on the world stage with its modern buildings.
Besides generating great economic value for the country, modern buildings are designed to enhance human connectivity and bring people closer together.
These buildings not only attract a lot of attention in China, but also spark hot discussion overseas. For example, a pyramid-like apartment complex in Jiangsu Province has been widely talked about both at home and abroad, while the Tianjin Binhai Library in North China's Tianjin made it on Time's 2018 World's 100 Greatest Places list and has been praised by many foreign media outlets including Newsweek.
Sci-fi designs
Recently, a pyramid-like apartment building in Kunshan, East China's Jiangsu Province has attracted a lot of attention from netizens.
Netizens in China have joked that the complex is the perfect place for some parkour while those overseas have been enthralled by its sci-fi feel.
The apartment complex, opened in 2013, has three mountain-like buildings that look almost as if they were built from blocks. The overall floorage is roughly 130,000 square meters.
"Architecture is a witness of society, and compared with other art forms, it has a more profound and lasting influence on society," said Wang Gang, a researcher of The Public Art Institute of China National Academy of Painting.
Another great example is the Tianjin Binhai Library, which features a luminous spherical atrium with floor to ceiling bookshelves lining the walls. Similar to the Kunshan apartment complex, the building shot to fame overnight owing to its futuristic design.
Jointly designed by groups including Dutch architectural firm MVRDV and the Tianjin Urban Planning and Design Institute, the library was put into operation in October of 2017 after three years of construction. The five-story high building resembles a three-dimensional eye from the outside and has a floor area of 33,700 square meters.
The building's modern design has made it a hot place to visit for many book lovers. On weekends, as many as 20,000 visitors from across the country come to the library to enjoy its rich collection of books.
There are 1.2 million books in the library's collection. The first floor has reading areas for children, the elderly and the visually impaired. The second floor is for study and exhibitions. The third is an open area for lending Chinese books. A Chinese and foreign language newsroom is on the fourth, while the fifth floor is home to the library's digitalization service zone.
"The library has overturned the traditional concept of libraries, especially when it comes to the way it operates and its spatial components," Wang noted.
"Its sense of ritual overtakes its sense of form, representing a more spiritual pursuit. In this point, it has gone beyond the boundaries of function, and that's where the significance and connotation of the library lies," he added.
Back to nature
As more designers pay attention to environmental protection, modern buildings have been emphasizing eco-friendly designs. The Fuzhou Forest Walkway in Fuzhou, capital of East China's Fujian Province, is a great example of this.
It is the first dangling footpath with a steel structure in China. More than 19 kilometers in length, the snaking treetop walkway connects five gardens and passes through forests so people can go on a relaxing stroll and reconnect with Mother Nature.
The architects behind the project say that the walkway "signifies an awakened consciousness dedicated to improving the lives of city dwellers by bringing nature within closer reach."
Seen from a distance, the elevated pedestrian pathway looks like a Chinese dragon threading its way down the lush Jinniu Mountains. Walking along the walkway is not tiresome as slopes are kept to a minimum, rising no more than one meter every 16 meters.
Even more attractive buildings and projects are underway in China, from the Hong Kong-Zhuhai-Macao Bridge to the Beijing-Zhangjiakou intercity high-speed railway.
"I think that, in the future, with the country's strength as its foundation, Chinese architecture will show an increasing sense of confidence and be richer and more diverse," said Wang.